Common Misconceptions of Absence of Voltage Testers
An Electrical Safety Webinar You Don't Want to Miss!
March 20, 2023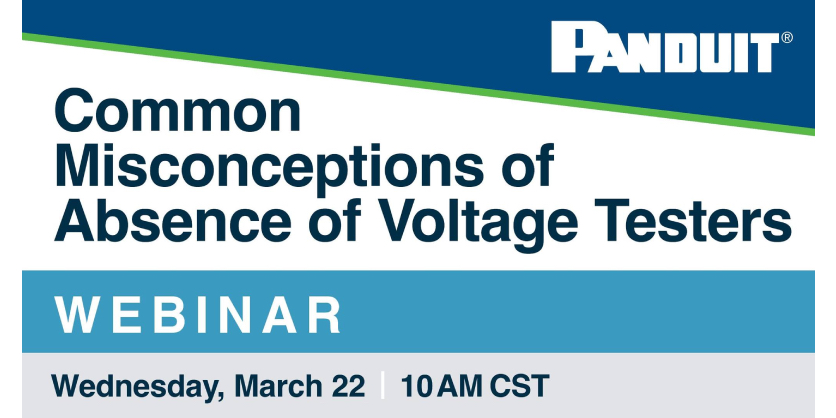 Electrical safety will always be a top priority in the workforce. But as industry safety evolves, so should your processes and devices. Many are familiar with portable testers and test stations. But these traditional ways of testing cannot always ensure failproof safety for your workers.
In this webinar, Panduit will: 
Address misconceptions and misunderstandings of absence of voltage testers
Break down the step-by-step process after the button is pushed
How AVTs can be a simple, reliable, and effective way of keeping your floor and its workers safe
As industry safety evolves, so should your processes and devices. In this Panduit hosted webinar, their product expert will answer three common misconceptions of AVTs.
Absence of Voltage Testers are often mistaken as likely to fail safety functions. Panduit will walk you through what standards are met and related misconceptions. Many believe that AVTs are not reliable because of the simple push of a button to test for absence of voltage. During the webinar, you will learn the simple breakdown of what happens after the button push.
And lastly, the misconception that test stations and portable testers are more trustworthy than Absence of Voltage Testers. Panduit will walk you through why Absence of Voltage Testers answer the demand for safety in the workforce in the most reliable way. 
Related Product
The new VeriSafe 2.0 Absence of Voltage Tester (AVT) leverages the same test in the existing Verisafe AVT, but with many new features and expanded applications. With the push of a button, workers can quickly determine voltage status and see an active indication when the absence of voltage is confirmed.
The automated test minimizes risk by verifying the absence of voltage before equipment is accessed, making it easier for workers to verify an electrically safe work condition. This provides a new and innovative way to test for the absence of voltage safely, reliably, and efficiently without exposure to electrical hazards.