Clamping module minimizes set-up times in 3D printing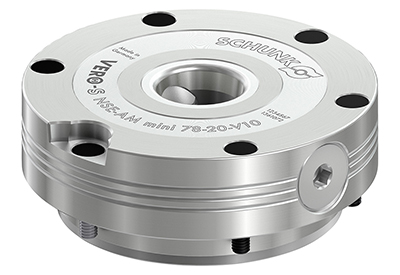 September 17, 2019
The completely sealed quick-change pallet system SCHUNK VERO-S NSE-AM mini 78-20 promises short set-up times and high productivity in three-dimensional printing and was particularly designed for the use in additive manufacturing. The module transfers the idea, which has proven for many years in the metal-cutting process of setting up machines for laser sintering (SLS) and laser melting (SLM) within seconds. At a maximum operating temperature of 200° C it is specifically prepared for systems with active heating. Its compact dimensions (ø 78 mm, height 20 mm above the machine table) ensure an optimal heat flow to the substrate plate, so that after the fast change process the required target temperature for 3D printing is quickly achieved, and production can start swiftly. The module can also be used for works in an inert gas atmosphere and it can be operated with this gas. The VERO-S NSE AM mini 78-20 can be fully integrated into the machine table and can be combined with further modules.
A uniform interface provides for a continuous process chain
Insertion radii facilitate the loading process. For the use as a single-acting clamping module SCHUNK has a version with anti-twist protection in their program. A turbo function is integrated by default and the pull-down force per module is 1,500 N. The actual clamping takes place without any external energy supply via spring force and locks form-fit and self-retaining. Even in the case of a sudden pressure drop the substrate or base plates stay safely clamped. The repeat accuracy amounts to < 0.005 mm. For opening the module, a system pressure of 6 bar is sufficient. Since the interface of the module corresponds to the one of the VERO-S NSE mini 90-25 clamping modules for machine tools, generatively manufactured components including the base plate can be directly changed on the machine tool with the VERO-S NSE mini interface. Therefore, a continuous process chain can be implemented from three-dimensional printing to the machine tool up to the measuring machine.