Automate, North America's Largest Automation Trade Show, Returns To Detroit May 22-25
March 23, 2023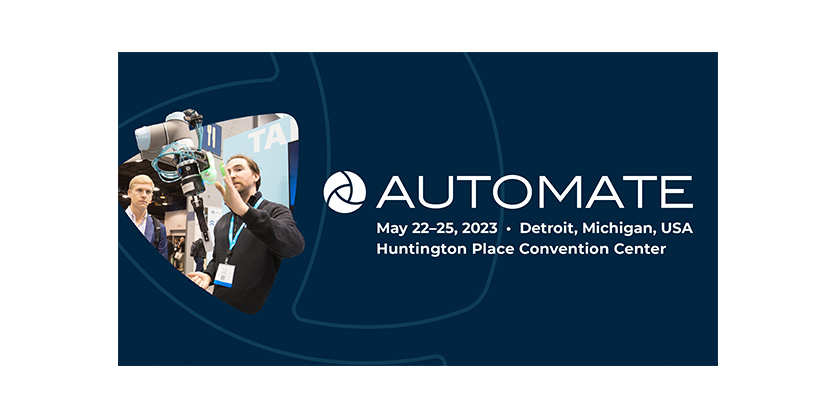 The leading automation showcase in North America, Automate, is back in Detroit May 22-25, 2023, with the latest in cutting-edge robotics, vision, artificial intelligence, motion control and more. Produced by the Association for Advancing Automation (A3), Automate delivers the latest innovations in manufacturing automation technology from more than 600 leading exhibitors. Each day also offers inspirational keynote sessions and theater presentations to help attendees find the best solutions for their unique business needs. Show registration is free and opens today.
The paid Automate Conference will feature accomplished industry professionals in over 150 talks. Those looking to sharpen their skills or deepen their automation knowledge should sign up for these educational conference sessions to get practical solutions, discover the latest innovations or learn from real-world case studies.
"Now is the opportunity for companies to take their business to the next level at the most important automation event in 2023," said Jeff Burnstein, president of A3. "Automate features automation applications to meet any business need, whether in manufacturing, logistics, consumer goods, food processing or any number of other industries. It's where you'll learn how to power your productivity, become more efficient, gain a competitive edge, and future-proof your business for years to come."

Jeff Burnstein, president of A3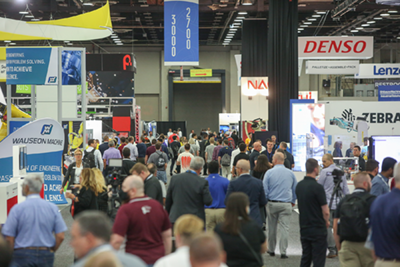 Automate 2023 will be the biggest yet, featuring 300,000 square feet of exhibit space. Limited exhibiting spaces remain.
Experience Real-World Solutions, Valuable Educational Sessions
In addition to seeing demos of the latest automation solutions, Automate show attendees can watch keynote sessions highlighting how these technologies solve real-world challenges or participate in small group discussions in the theater sessions covering important topics such as how robotics and automation are transforming the economy; innovative strategies for jumpstarting an automation strategy, or how companies can cultivate talents in the workforce. This year will again feature presentations from the finalists of the Automate Startup Competition, sharing why their new offering should win the cash prize -and credibility.
At the Automate Conference, held alongside the free show offerings, paying attendees will hear from experts in the industry and can get practical training to become a certified vision professional or certified motion control professional with courses and testing available on-site.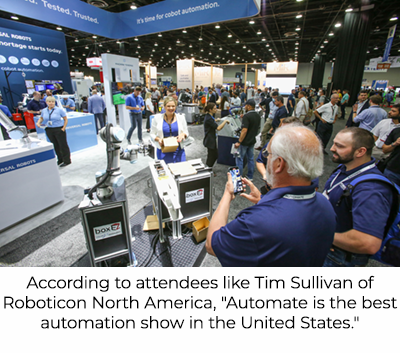 "Over 20,000 people from around the world will come together at Automate to demonstrate what's possible in automation today and in the future," Burnstein said. "If you've ever wondered if these technologies are the right choice for your business, register free and let us show you how robotics, vision, AI and more can unlock higher product quality, lower costs and unlimited possibilities. The opportunities are endless. We look forward to helping you get what you or your business needs from Automate next May!"

Jeff Burnstein, President of Association for Advanced Automation
Related Story
The robotics industry's most prestigious award will be presented Wednesday, May 24, at Automate in Detroit. The Association for Advancing Automation (A3) recently announced two longtime industry leaders as the winners of the 2023 Joseph F. Engelberger Robotics Awards, the world's most prestigious robotics honor.