Pilz: CMSE® – Certified Machinery Safety Expert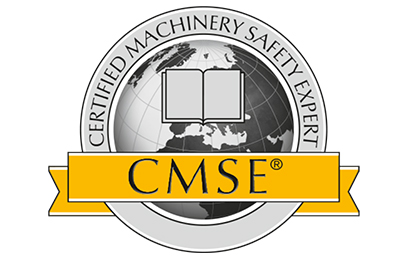 August 2, 2019
CMSE – Certified Machinery Safety Expert is a globally recognised qualification enabling a 360° approach to machinery safety.
A Global Partnership in Machinery Safety
A collaboration between two international leaders in their respective fields, Pilz and TUV NORD, Certified Machinery Safety Expert training is the foremost machinery safety training of its kind in the market. Our Training Instructors have extensive experience in the field of machinery safety therefore they have the ability to utilise worked examples from projects to ensure attendees gain both a theoretical and practical understanding.
Pilz as the Expert in Machinery Safety
Pilz is an international company providing innovative machinery safety services, training and products. Pilz operates from an international platform through a network of 40 companies with headquarters in Stuttgart, Germany.
TUV NORD as the International Certifier
TUV NORD, with its subsidiary TUV NORD CERT, is an international certification body and is present in more than 70 countries worldwide. Customers benefit from the in-depth expertise of qualified and licensed experts and auditors. TUV NORD CERT guarantees the highest competence in certification.
What is CMSE® – Certified Machinery Safety Expert?
CMSE training deals with the complex technical issues surrounding machinery safety and enables an understanding of the lifecycle – from legislation, standards and safeguarding techniques to a detailed review of functional safety areas.
Four Days – Five Modules
The training is delivered in the form of five individual modules containing lectures, discussions, and practical workshops, delivered over four days with an open book examination on the last day to verify understanding and enable certification. Course content.
Your Benefits of CMSE Certification
Gaining certification will enable you to:
– Develop a greater understanding of the requirements of the relevant regulations and standards
– Discover how these may be applied to the design, build, maintenance and operation of machinery
– Understand the obligations to be met when specifying, designing, constructing or putting machinery into service
– Manage projects from risk assessment to safety upgrade and implementation
– Design functional safety systems in accordance with EN ISO 13849-1
– Attain an internationally valid certificate from TUV NORD
Training that Awards Global Certification
If you are involved in the operation, maintenance, supervision or import of machinery, CMSE® is certification which will offer proof of your competence – globally!
Examination
The CMSE examination is a key component in attaining certification from TUV NORD. The examination will take place on the last (fourth) day of the training. The examination establishes if the participant is able to apply the knowledge gained during the training to answer questions relating to relevant machinery safety issues. It also establishes that the participant has understood the content of the training and can recall the relevant requirements through the examination process.
Training sessions in Canada in 2019
There are 4 more sessions for the end of the year. Don't miss the opportunity to become a CMSE and take advantage of the know-how of the Experts in Machinery Safety.
Mississauga, ON:
– September 17 – 20
– November 19 – 22
Montreal, QC (French training):
You can find more information about the training on the following link: http://bit.ly/training-cmse