MICA as a Universal Link Between Machines, Cloud and IoT Platforms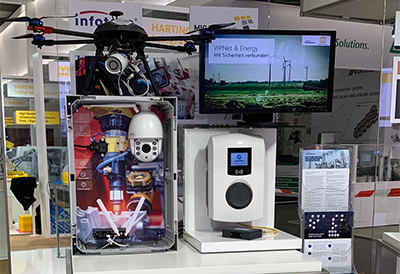 April 5, 2019
Data from machines and processes are the basis for performance increases and an optimised material flow. Together with partner companies and customers, HARTING was at the HANNOVER MESSE to demonstrate how data from processes, sensors and controllers can be used to get the best out of production.
When it comes to the production environments of automotive suppliers, the traceability (track & trace) of individual parts as they make their way through processes – e.g. in CNC machining – is playing an increasingly important role. Collected data must be thoroughly analysed to effect process optimisation and quality control. This is where the HARTING Edge Computer MICA® comes into play in conjunction with the AIS Automation "FabEagle® Line Control" line controller and forms the core component for production control within this constellation. The Dresden-based company is one of 15 partner companies that is presenting its expertise with regard to Industry 4.0 and IIoT at the HARTING stand within the MICA.network user organisation.
Retrofit sensors for easy plug-and-play condition monitoring in one package
The Munich education startup University4Industry has used a steam-driven engine, symbol for Industry 1.0, as an example of a brownfield machine and equipped it with sensors, a controller and the MICA . University4Industry provides digital teaching and learning content in the area of Industry 4.0 and digitalisation and helps companies to close critical knowledge and capability gaps with employees in these areas.
AKQUINET is using a simple example to present how process relevant sensor data is integrated with MICA® as an edge computing device in order to exploit the potential of digitalisation for intelligent production planning and controlling. That vibrations not only go into your legs but can also go into the cloud as data will be demonstrated by the SIEVERS GROUP on a vibration board which visitors can try out live at the stand. The vibrations are detected by the Bosch CISS sensor and the data processed and visualised in MICA.
Infotecs is also bringing a similar demonstrator that enhances the condition monitoring with its security solution that protects the communication using the ViPNet coordinator for MICA . Data transmission is securely encrypted and controlled. This allows an external technician to securely access plants and machines in production and safely read out data from different sensors. Furthermore, visual access to, for example, video cameras can also be encrypted.
Injection moulding machine produces plastic parts – and lots of data
An Arburg injection moulding machine at the HARTING stand will not only produce plastic parts but also supply lots of data. By means of this real example, HARTING in collaboration with ARBURG and the IT service provider PCO, is showing how energy readings as well as environmental conditions can be used for monitoring product qualities and signs of wear. Moreover, the latest solutions in the area of RFID-based tool identification are being introduced as well as software solutions for IT integration of older machines and protocols from the most varied manufacturers.
The Cybus Connectware uses "Profinet Sniffing" to make the widely used Ethernet protocol easy to use universally for every application. This makes the required data usable on the Profinet level, without having to deal laboriously with the controller (PLC). Moreover, the high transmission rates of Profinet can be used to detect workpieces by means of picker arm variables based on machine learning for instance. The procedure is extremely robust and with MICA can even be used in the most demanding environments. The software solution goes perfectly here with the new MICA variant with a secondary Ethernet interface. This enables two Ethernet networks that are separate from each other to interact securely.
Digitization requires appropriate infrastructure
The digitalisation of business operations is not a surefire success and above all also requires a corresponding infrastructure in the form of a high-performance IoT platform, along with multifunctional Edge devices such as MICA and experienced partners. Firstly, this is where the Connected Things Hub, which is the cloud-based IoT platform from Telekom based on Microsoft Azure, enters the equation. All types of sensors can connect to the platform regardless of the device type, data type, the protocol and transmission path. Together with HARTING, T-Systems is developing a solution package for the acquisition and pre-processing of sensor data in industrial applications and a data connection to the IoT platform via mobile communications.
Also Amazon's Cloud Service AWS offers comprehensive services for data processing, IoT management and for business processes. Here SIC Software, a certified AWS consulting partner and the newest member of the MICA.network, is demonstrating how MICA is suitable as a data pre-processor and gateway for AWS applications.
Uniform, standardised cloud connectivity is the goal of the standardisation initiative "Industrial Cloud Federation" in which Expleo is active and demonstrating with a demonstrator at the HARTING stand in an exemplarily way. A second demonstrator at the HARTING stand, the HAII4You smart factory is also connected as part of the Cloud Federation. The use case is to record the data from the installed robots and the subsequent condition monitoring within the SmartANIMO application from Expleo. MICA functions here as a gateway to provide machine data preprocessed in the standard protocol for OPC UA cloud systems. Expleo was born from joining the well known IT service provider Assystem and SQS into one global brand with over 14,000 employees in 25 countries.
The company m2Xpert develops platforms which brings together information from different corporate divisions and analyses them in their respective customer context. Data from ERP systems, machines and other applications are correlated. The strengths of MICA are used in the use case shown by m2Xpert. MICA connects machines of different manufacturers as data sources for secondary analyses. This ensures the expandability of the platforms.
With the server- or cloud-based IoT platform pst from M2MGo, B2B2C portals and applications can be made by drag & drop without programming effort.
Go HERE for more information