ELECTRO SONIC INTRODUCES THE INDUSTRIAL DESIGN RESOURCE 2018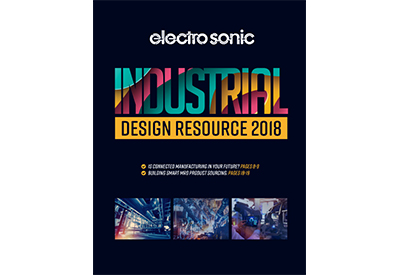 December 13, 2018
The Product Experts at www.e-sonic.com introduces the Industrial Design Resource 2018. Included are the latest products and solutions to help you navigate the industrial highway of design-cycle problems.
National Sales Manager, Niall Flanagan, states, "We strive to offer our customers a broad overview of top quality products from our expansive line card in the industrial space. This Magalog is accessible in both print and digital versions, packed with products as well as features like Connected Manufacturing, MRO Product Sourcing and an overview of Electro Sonic."
Thirteen world-class suppliers are included in Electro Sonic's 36-page Industrial Design Resource including; TE Connectivity, Honeywell, ebm papst, IDEC, Carlo Gavazzi, APEM, Omron Electronic Components, Panduit, Fluke, Schurter, Belden, Hammond Manufacturing, and Triad Magnetics.