Belden Focuses on Building Tomorrow's Network in Today's Applications at SPS/IPC/Drives 2018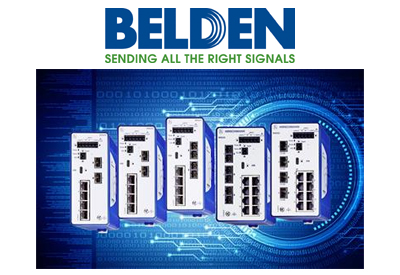 November 30, 2018
At SPS/IPC/Drives 2018 Belden Inc. highlighted at how the company can support customers' drive to build tomorrow's network in today's applications.
One key aspect is a step-by-step approach move into digitalization. These include:
Creating a solid basis: future-proof cables
Getting a grip on what's going on: making all sensor data available and visible
Preparing for the rush-hour: ensuring your network can deal with the volume of traffic
Converging IT & OT: building a single and secure automation network
Throughout the show, the Belden team will present a number of new products and technologies from its Belden, Hirschmann and Lumberg Automation product ranges designed to enhance the productivity of industrial systems and machines. These include:
Hirschmann BOBCAT Switch for the next Generation Network
This next generation compact managed switch is the first appliance to provide advanced security and real-time communication through time-sensitive networking (TSN) technology on all of its ports to standardize Ethernet usage in any application. With more security and flexibility, the Hirschmann BOBCAT Switch takes Ethernet to the next level and is equipped to work with the evolving needs of industrial facilities.
Hirschmann DRAGON PTN (Packet Transport Network)
A new MPLS-TP based backbone switch family with best-in-class HiProvision software, to reliably and efficiently transport mission-critical data, guaranteeing bandwidth in wide area networks. DRAGON PTN and HiProvision deliver a fully integrated Ethernet-based backbone transmission system that ensures uninterrupted communication. With a large number of interface modules DRAGON PTN is offered with a variety of port types to ensure flexibility and also interface seamlessly to legacy systems.
Hirschmann DRAGON MACH4500 Layer 3 Backbone Family
This next generation Layer 3 Ethernet backbone is best suited for applications that require high bandwidths and reliable data transfer. A flexible future-oriented solution, Hirschmann DRAGON MACH4500 supports redundant internal power supplies to increase device availability, and low-cost future expansion is easy. Engineers in data-rich industrial environments can transition from 1 Gigabit networks to 2.5 and then to 10 Gigabit as the network bandwidth requirements increase.
Hirschmann SPIDER III PoE Standard Line Switches
The SPIDER III PoE Standard Line of entry-level rail switches meets diverse industrial network needs with flexible port options and configurations to accommodate a variety of data transfer requirements. Built on PoE+ generated from the standard 24 V power supply, these unmanaged switches support more devices on the network without requiring an external power device. This saves space in tight operating areas and makes installation simple and fast.
Lumberg Automation LioN-Power IO-Link system expands
Lumberg Automation has added two additional I/O Hub variants to its successful range of LioN-Power IO-Link System Multiprotocol IO-Link Masters and I/O Hubs, the first standardized I/O technology for communicating with sensors and actuators. 10DI 6DO with 10 digital inputs and 6 digital outputs and 16DIO with 16 digital inputs/outputs (universal usable) both feature IO-Link V1.1.2 specification and port type 16 DIO a Class A, so they can be connected easily to all IO-link Masters, helping to improve process efficiency by transmitting data to higher level PLCs in an standardized way.