Apollo Electric & Control Seizes Opportunity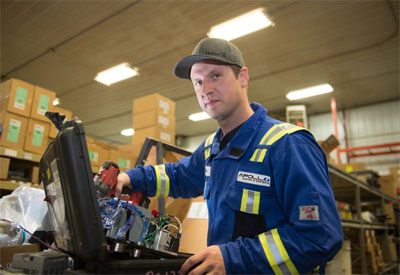 January 4, 2018
On Sept. 25, Apollo Electric & Controls, an new electrical company, fired up in Estevan.
The outfit is run by partners Trevor Dutka and Jim Schlamp, who have joined up with the partners behind Estevan Meter Services Ltd. to create a sister company. Apollo works out of Estevan Meter's building on the east side of Estevan.
Dutka said on Nov. 10, "This isn't an Estevan Meter electrical company. This is our own electrical company. Apollo Electric is its own entity. It's billing is all through us."
They have six employees, all electricians. "We're basically 90 per cent oilfield, and a little bit commercial," Dutka said.
Their current work includes wellsites, single well batteries, a lot of programmable logic controller (PLC) programming, electrical controllers.
"We're doing some smaller projects. There aren't really any of batteries for bid right now. We're doing a lot of maintenance. Obviously, it's that time of year where the change of seasons comes with a bit of work with it. The heaters aren't working, or heat trace and piping, stuff like that. Stuff that doesn't like the cold is showing its horns right now."
He gave an example of a big rain storm earlier this year, after a long dry period, that resulted in a few service calls.
They've got two trucks right now, and a third on the way.
"Our goal is to expand. When we expand, I guess, will depend on opportunities we have in the oilfield around the Estevan area. We're looking at more clients and talking to more and more people. People are excited about talking to us, because we really wanted to push this as a one-stop shopping kind of place. You can phone, you can get your instrumentation, your electrical, your basic electrical programming or electrical design – anything like that."
They are working side-by-side with Estevan Meter, he added. For instance, Estevan Meter might do the tank gauging while Apollo does the electrical work.
The "controls" in their name refers to instrumentation or electrical, such as controls on variable frequency drives (VFDs) for pumpjacks.
Image and Story by Brian Zinchuck
Source: http://www.pipelinenews.ca/features/production/apollo-electric-controls-sees-opportunity-1.23104423