ABB launches new digital solutions suite to deliver data-analytics based optimization for metals producers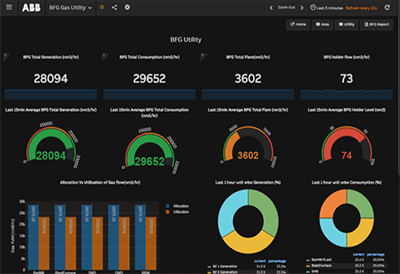 April 30 , 2019
ABB Ability Data Analytics Platform is a new digital solution for iron, steel and other metals manufacturing customers that helps customers to visualize every single piece of data across the value chain, so they can make real time decisions on planning and plant wide operations.
ABB Ability Data Analytics collects, analyzes and visualizes data from a variety of subsystems and devices within a metals plant, harnessing large volumes of complex data and integrating Operating Technology (OT) and Information Technology (IT) in one single platform. Fully scalable, secure and vendor neutral, it can be connected to any ABB or third-party systems and devices. By breaking down data silos and increasing information transparency ABB Ability Data Analytics Platform helps customers take the essential steps towards realizing fully digitalized plants.
Specific features provide customers with an integrated view of operations in real-time via powerful, high resolution dashboards. With either on-premises or cloud connectivity, this centralized platform solution allows for better planning and process control through the continuous monitoring of production data, downtime, and movement of heats and raw materials as examples. Analysis of complex, large data across time-frames and facilities provides opportunities for improving quality, identifying bottlenecks and optimizing the plant-wide resourcing of utilities, byproduct gases and production. It can be used when applying new technologies such as machine learning, or to optimize specific process areas such as cold rolling and long product mills.
"Due to global competition metals manufacturers are under constant pressure to find new and improved ways to enhance their operations and reduce costs. More powerful tools are needed to monitor operations, identify and diagnose current problems, and predict new ones before they cause bottlenecks, unplanned downtime or unnecessary use of resources such as utilities, energy and assets," said Tarun Mathur, Global Product Manager for Metals Digital at ABB. "ABB Ability™ Data Analytics Platform for metals offers customized KPIs based on organizational access levels to allow the customer to get the right information to the right people at the right time to better diagnose product, system and process issues, make data-driven decisions and reach unprecedented levels of optimization."
ABB is a technology leader focused in digital industries and ABB Ability is our unified, cross-industry digital offering — extending from device to edge to cloud — with devices, systems, solutions, services and a platform that enable our customers to know more, do more, do better, together. ABB Ability Data Analytics Platform is one of several solutions created for iron, steel and other metals manufacturers that leverage the power of the ABB Ability common technology platform and reflect the deep domain expertise and process knowledge at ABB. It collects data in real-time from a variety of automation systems and devices using OPC and Modbus and is an extensible analytical engine interface with analytics tools such as R, MATLAB capable of modeling, diagnosing and predicting.
Go HERE for more information