ABB digital solution eliminates needless maintenance to boost productivity in the metals industry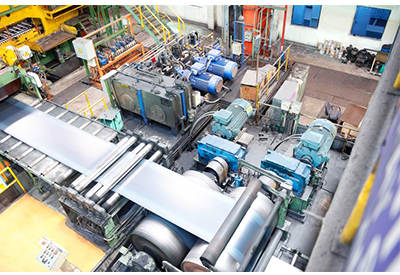 September 5, 2019
ABB has launched a scalable, digital application that gives metals producers a complete overview of their production assets' health, helping to avoid excess maintenance, prevent unnecessary exposure to hazardous areas and speed up repairs.
The solution – ABB Ability Asset Vista Condition Monitoring for metals – quickly gathers previously disparate data from a variety of production equipment such as motors, switchgears, gearboxes, valves, switches and sensors. The data is then presented via user-friendly dashboards to operations, automation and maintenance personnel, ensuring smooth joint working and integration. Highly scalable, it is particularly quick and easy to implement at plants already using a wide range of distributed control systems, including ABB's market-leading ABB Ability System 800xA.
"Our goal with ABB Ability Asset Vista is to break down information silos between operations, automation and maintenance personnel, helping metals industry customers define a thorough predictive maintenance strategy," says Tarun Mathur, Global Product Manager for Metals Digital at ABB.
"Past studies have shown that a properly functioning predictive maintenance system can provide savings ranging from 12 and in some cases up to as much as 40 percent over a program using preventive maintenance alone," explains Eduardo Ingegneri, Global Product Manager for Asset Vista at ABB. "Following successful implementation of the system at a European metals customer's 22 stand bar rolling mill we know it offers cost savings, improves human safety by reducing unnecessary maintenance in hazardous areas, and can reduce resource use and environmental impact."
Developed by maintenance experts, ABB Ability™ Asset Vista Condition Monitoring works on open communication protocols like OPC and Modbus and is easily integrated in a range of third-party control systems. Combining Asset Vista with the plant's maintenance management improves equipment reliability, thereby reducing maintenance and operational costs, avoiding unplanned shutdowns and increasing productivity.
For example, a typical conveyor can provide large amounts of valuable data, yet without ABB Ability™ Asset Vista Condition Monitoring, this data may be distributed, independently, to different computer systems in different locations. This can prevent vital information being shared promptly among all relevant personnel.
"If a fault occurs due to insufficient lubrication of an electric motor, the maintenance engineer may not learn about it until production has already been compromised," says Tarun Mathur. "Even when identified, the engineer may not quickly identify the electric motor as the root cause. This can lead to massive and costly delays."
ABB Ability™ Asset Vista avoids this scenario by channeling key information into one maintenance-oriented system. So, all relevant parties are forewarned of a potential fault (i.e. lubrication failure) with a proposed solution in time to resolve it before production is affected.
There are four stages to implementing ABB Ability™ Asset Vista Condition Monitoring for metals. First, an on-site assessment by ABB experts and site maintenance specialists evaluates the precise maintenance needs. A long-term solution is then designed based on business goals and available technologies. In the next stage, ABB's team deploys the online condition monitoring application. Finally, ABB remotely measures and optimizes maintenance performance and presents results in periodic reports. Under a service agreement ABB ensures the application is always up-to-date so that customer maintenance teams can focus on their daily maintenance work.
ABB Ability™ Asset Vista Condition Monitoring for metals is scalable through its library of asset monitors, called the Asset Vista Library Suite. Thanks to this Library Suite, users can apply Asset Vista to whichever area of focus they wish, whether condition monitoring of automation, instrumentation, electrical, mechanical or process equipment. This suite of monitors enables a user to start with a small scope covering only the most common components initially and then, in line with growing business demands, scale up the condition monitoring to assess more complex, high-value added equipment and components.