Pepperl+Fuchs: New G20 ZPA Roller Module—Intelligent Buffer System for Conveyor Technology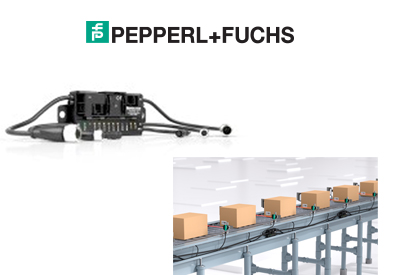 June 19, 2019
When it comes to transporting heavy or fragile goods and applications that involve manual tasks, zero pressure accumulation simplifies work on conveyor belts. Individually timed conveyor systems maintain a pre-defined distance between individual products and packages while also preventing damage from unwanted collisions. How can conveyor belts be timed so precisely? With the new G20 ZPA roller module from Pepperl+Fuchs, the infeed of packages on conveyor belts can be adjusted to match the rate of packages leaving the conveyor belt—individually and without time-consuming programming. This newly developed module is especially cost-effective and operates without a fieldbus infrastructure, control system, special tools, or additional cables. Learn more about this intelligent solution!
Intelligent Plug-and-Play Module
The G20 ZPA module is simple to integrate. Every module can be attached to a flat power cable via piercing technology. No special tools are required, and the module's swivel mechanism makes repositioning easy. This allows for the construction of modular conveyor segments that are immediately operable once on-site. All of the necessary ports are built into the slim module, which can be easily attached to the mounting rail for clutter-free plant design.
Integrated logic enables fast commissioning and automated neighborhood detection, including control of the connected motors. There is no need for special devices or programming. Using three rotary selectors, users can determine speed and rotational direction and choose from one of seven operating modes. An optional ZPA analyzer tool can also be used for commissioning and diagnostics. It automatically generates a list of all devices and their settings.
Flexible, Cost-effective Solution for Conveyor Systems
The new G20 ZPA module only addresses rollers if necessary. Otherwise, the module puts rollers into "sleep mode", which significantly reduces energy costs. At the same time, five start and stop ramps ensure gradual acceleration and deceleration of the conveyor belts, protecting roller gears in the long run. The module also offers flexible installation, because the device operates independent of the fieldbus and allows integration of up to 256 modules in series.
Highlights of the Intelligent G20 ZPA Module
G20 ZPA module for zero pressure accumulation in material handling
Integrated logic enables plug-and-play commissioning with no need for additional devices, control system, or programming
Fieldbus-independent integration via piercing technology
Flexible positioning and repositioning
ZPA analyzer available for additional monitoring
For more information: https://www.pepperl-fuchs.com/canada/en/35671.htm