Wieland Electric: Pluggable Electrical Installations for Power & Signals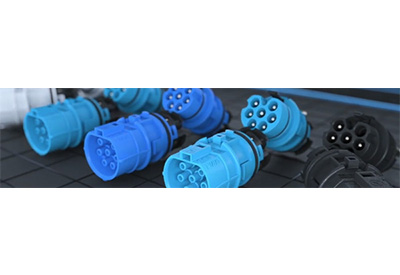 December 10, 2020
As industry and building technologies continue to evolve through diverse applications, there are increasingly greater demands for fast and safe electrical installations for high-load applications. Wieland Electric is responsive to this demand by expanding their RST CLASSIC portfolio to accommodate these needs. The new RST 20i6 (6-pole) and RST 20i7 (7-pole) connectors further extend the versatility of electrical installations through increased functions, quick and safe assembly, and reliable performance under the toughest of environments thanks to an elevated Type 6P protection rating. For outdoor applications, these new connectors are also optionally available with a fully integrated barrier seal to present moisture from spreading along the cable system.
A comprehensive design philosophy, down to the last detail
Available in both screw and crimp fitting options, RST 20i6 and RST 20i7 components are capable of managing loads of up to 20A and support conductors up to 2.5 mm². The RST 20i6 (6-pole) connector was developed specifically for dimmable emergency light applications, a key element in industrial safety. The RST 20i7 (7-pole) connector was developed as an ideal solution for combining polyphase systems with signals. Three codings ensure both mechanical and colour-based differentiation between circuits, with an added safety feature that distinguishes between grounded and ungrounded wires. Mains and extra-low voltages (SELV) can be connected via internal insulation coordination inside a connector housing, with compact connectors allowing for high modularity and adaptability for dynamic application requirements. These models are provided in both straight or angular versions, as well as additional options compatible with all common cable diameters, including connectors with two cable inputs for through-wiring applications.
RST: A versatile series for every project
The addition of RST 20i6 and RST 20i7 to the RST portfolio reflects Wieland Electric's commitment to addressing the needs of end users. Whether in lighting technology, building and work-site power systems, factory and warehouse construction, solar or even events technology, thanks to the universally plugable installation system provided with an elevated protection rating, Wieland Electric is able to offer solutions for any area of application. This begins with the smallest member of the RST family, the recently launched miniature connector RST MICRO for LED lights and signals, and extends through to the RST POWER series, which includes powerful connectors for large cross-sections. The RST MINI, in turn, is ideal for extremely confined spaces, while the members of the RST CLASSIC series, as all-rounders, put forward the most comprehensive portfolio available on the market. Wherever RST connectors are used, users not only benefit from the immense flexibility of the system but can also increase the operational readiness of their entire worksite thanks to quick and easy assembly of components, prefabricated during production.
Product Specifications RST 20i6 and 20i7
Rated voltage: up to 600 V
Rated current: up to 20 A
Dimensions: Diameter 34.6, overall length approx. 82 mm
Number of poles: 6- resp. 7-pole
Connection cross section: up to 2.5 mm².
Protection class: Type 4X, 6, and 6P; optional barrier seal
Coding: mechanical and coloured
Approvals: VDE, cULus, LR, GL/DNV, BV
For more information, visit www.wieland.com.