SureMotion High Torque Synchronous Drive/Timing Belts from AutomationDirect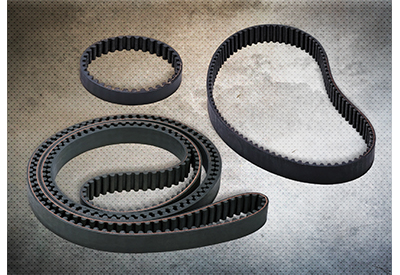 April 28, 2020
Synchronous drive belts and pulleys utilize teeth to prevent slippage and unwanted speed variations. AutomationDirect SureMotion® 5M and 8M (5mm and 8mm pitch) high torque synchronous drive/timing belts have a curvilinear HTD® (High Torque Drive) tooth profile which allows the belts to have a much larger pulley contact area for improved performance.
The chloroprene belt body is heat and ozone resistant with a high tooth shear resistance. Fiberglass tensile cord provides high dimensional stability and maximum flexibility. The nylon tooth cover provides durability, wear resistance and increased power capacity. Belt operating temperature range is -13/+185°F (-25/+85°C).
SureMotion timing belts are an excellent choice for many industrial applications. Belt widths from 9mm to 30mm and circumferences from 180mm to 4400mm are available. Pitch sizes and widths match SureMotion pulleys to cover a wide range of power transmission requirements.
Priced from $5.50, AutomationDirect SureMotion high torque drive/timing belts conform to ARPM standard IP-27 and have a 1-year warranty.
Learn more by visiting: www.automationdirect.com/timing-belts.