Level 3: Custom UV Printing from Hammond Manufacturing
June 20, 2023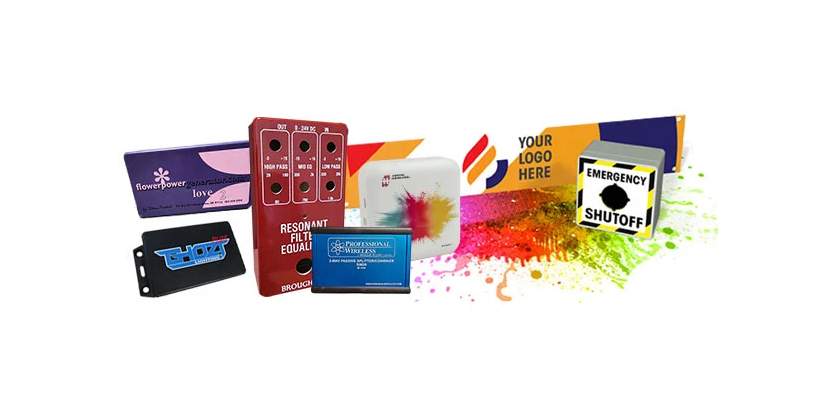 UV printing is an excellent alternative to silk screening. Hammond Manufacturing can apply your custom graphics to many of their products. Their multiple printers use an advanced UV-curable inkjet printing process, accommodating a wide range of applications and offering superior print quality.
CMYK and white to match your brand.
Spot color inks for logos and your custom designs.
Clear varnish ink can represent different textures and enhance designs.
It supports vector and raster graphics, drops shadows, and unique effects.
White ink is available to enhance the brightness of colored inks.
A great alternative to silk screening.
They can print on panels up to 9U – or other items up to a maximum print bed size of

16.5″ Width
24″ Length
6″ Maximum Product Height/Thickness.

A minimum of 25 pieces is required.
Their quote will include the cost of the rack panel.
While they can print on almost any of their products, we suggest using their rack panels.
For PDF Templates, see the following product pages. Click on the part number to download the pdf drawing.
More Information
Related Product
Introducing the 1418 N4 AL Series Type 4X aluminum wallmount enclosures from Hammond Manufacturing, designed for use as instrument enclosures, electric, hydraulic and pneumatic control housings, electrical junction boxes and terminal wiring enclosures. These enclosures provide protection where equipment may be hosed down or otherwise be very wet, or in specific applications where corrosion may be a problem.