Festo's decentralized remote I/O system lets machine designers think differently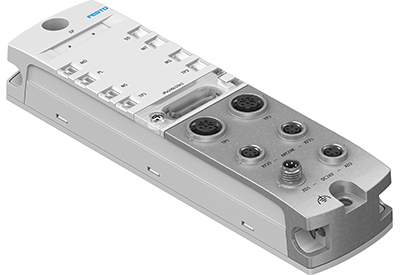 October 3, 2019
Every so often a game-changing idea like Festo's new CPX-AP-I decentralized remote I/O reaches the market, giving machine designers new possibilities to increase the efficiency and cost-effectiveness of their projects. In fact, the genius of the design and the potential unleashed by these CPX-AP-I control modules earned Festo a coveted reddot product design award earlier this year.
This powerful remote I/O system in IP65/IP67 can connect up to 500 modules and valve terminals via leading bus options such as PROFINET, Ethernet IP, EtherCAT or PROFIBUS. CPX-AP-I can be integrated into all major host systems in an extremely flexible and scalable manner, with cable lengths up to 50 m between modules. These features make CPX-AP-I ideal for assembly and handling technologies as well as applications involving motion. Existing Festo valve terminals can be easily integrated into the new system, so that nothing changes in terms of the pneumatic control sequence. The system also can be connected to the cloud using Festo's CPX-IoT gateway, making possible predictive maintenance of Festo valve terminals like the VTUG or MPA-L.
The CPX-AP-I modules themselves are extremely compact and lightweight so they fit nicely in machines and manufacturing systems with limited installation space, in handling and tool change systems where space is at a premium or in those mobile applications where low weight and minimal space usage are a must. That said, CPX-AP-I is suitable for any size. A fast bus cycle time of up to 15 µs and a net data rate of 200 Mbaud enable up to 2kByte I/O process data. This is ideal for fast and synchronous processes.
This all-rounder amongst remote IO systems is equipped with IO-Link technology as well as IO-Link device tool, which simplifies commissioning without the need for additional software tools. However, the CPX-AP-I also has a plug-in for the free, PC-based Festo Automation Suite software for exceptionally fast and easy commissioning.
These many exceptional features give the CPX-AP-I the best price/performance ratio for combining valve terminals and decentralized IO. Its many advantages give engineers new possibilities in machine and system design to meet the requirements of both conventional production or the digital factory of the future.
For more information, visit www.festo.com.