Festo Introduces Its Most Compact Parallel, Angled, and Radial Grippers
November 15, 2023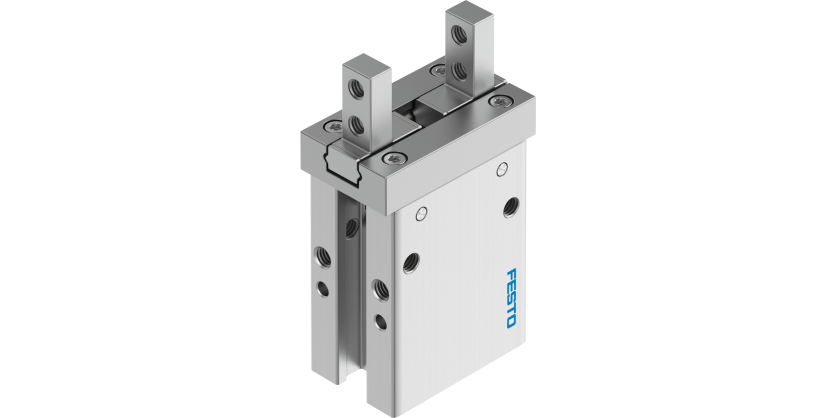 From recently completed production lines, Festo introduces a new generation of competitively priced compact grippers that offer a host of advantages for precision electronics and small part assembly. The DHPC parallel gripper offers ≤ 0.01 mm repetition accuracy, while its variants – the DHWC angle and DHRC radial gripper – offer ≤ 0.2 mm accuracy. The DHPC, DHWC, and DHRC are interchangeable with competitive grippers. They provide the added benefits of smaller size, higher grip force, long service life, and improved precision.
Designed for today's smaller footprint machines, the DHPC and its variants give the machine builder and end-use customer wide latitude in mounting options and both T- and C-slots for sensors. There are three air supply location options, two extra finger designs, and long stroke and dust cover units. Festo hardened the gripper fingers for long wear and low deformation. Positioning pin holes ensure that replacement grippers are mounted in the precise position of the gripper it replaces. Double-acting, single-acting, normally open, and normally closed variants are available. The most common sizes of DHPC parallel gripper are in stock and ready for shipment.
For more information on the new grippers and the advantages of working within the Festo ecosystem ‒ the ecosystem that leads to less engineering overhead, fast time to market, and seamless connectivity ‒ visit festo.com .
Festo at at glance
Festo is one of the world's leading suppliers of automation technology and technical education, is deploying its products and services to meet the challenges of digitization and smart production. Founded in 1925, the family-owned company based in Esslingen, Germany supports a wide range of needs for advanced solutions in factory and process automation. 
In Canada, the company has been supporting Canadian industry for almost 50 years, continuously elevating the state of manufacturing in this country with innovative products, optimized motion control solutions and unrivalled support. Globally, some 300,000 customers put their trust in the company's pneumatic and electric drive products and technology.
In addition, Festo Didactic provides state-of-the-art training equipment and educational programs for industrial companies and educational institutions – about 56,000 customers worldwide. The Festo Group registered sales of €3.81 billion in the 2022 financial year and is represented worldwide at 250 locations with about 20,800 employees. About 7% of its annual turnover is invested in research and development.
Related Story
Festo is a leading supplier of pneumatic and electrical automation technology that tirelessly innovates to improve operations for machine builders and end-use customers in the discrete and process industries. The company' s 2023 innovations include their CPX-AP-A remote I/O, CMMT MP servo drive, and a portfolio of productivity tools.
Easily the star of the show is Festo's lineup of Productivity Tools. These online and downloadable tools have been meticulously designed to address all existing factors in the design of a motion system – and they are all 100% free. These tools include Electric Motion Sizing, Handling Guide Online, Automation Suite, and 3D CAD Configurator.