Expandable Safety Controller Now Available with Banner In-Series Diagnostics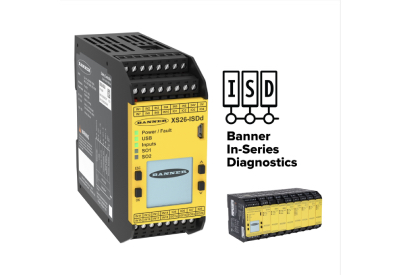 February 14, 2022
An enhanced version of Banner's XS26 Safety Controller is available with built-in In-Series Diagnostics (ISD). This technology simplifies installation, provides comprehensive real-time data about automation safety equipment, and prevents or reduces downtime. The expandable XS26-ISDd allows users to configure and monitor up to 394 connected safety devices—such as E-stop buttons, safety switches, safety light screens, two-hand controls, and rope-pull switches—and controls up to 68 independent safety outputs. It is a cost-effective solution to meet machine-safeguarding requirements, with the flexibility to grow with expanding production and future technology enhancements.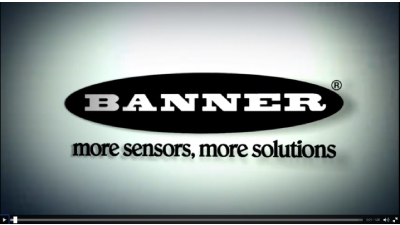 Banner's new XS26-2 expandable safety controller is a cost-effective, easy-to-use solution that is scalable to fit your specific machine safe-guarding requirements.
With the option to add up to eight I/O expansion modules, or to utilize In-Series Diagnostics (ISD), the XS26-2 expandable safety controller has the capacity to adapt to a variety of machines, including large-scale machines with multiple processes.
•In-Series Diagnostics (ISD) provides detailed status and performance data from each connected safety device, which can be accessed with an HMI or similar device
•Program in minutes with intuitive, easy-to-use configuration software
•Up to eight expansion I/O modules can be added as automation requirements grow or change
•Choose from six expansion module models
•Expansion module models have a variety of safety inputs, solid-state safety outputs and safety relay outputs
•Innovative live display feature and diagnostics allow for active monitoring of I/O on a PC and assist in troubleshooting and commissioning
•Controller and input modules allow safety inputs to be converted to status outputs for efficient terminal use
•Ethernet-enabled models can be configured for up to 256 virtual status outputs
•SC-XM3 external drive for fast swap and quick configuration without a PC

Learn more about the XS26-2 safety controller by clicking here