DPDM Multimount: Festo's smallest, lightest and easiest-mounting compact cylinder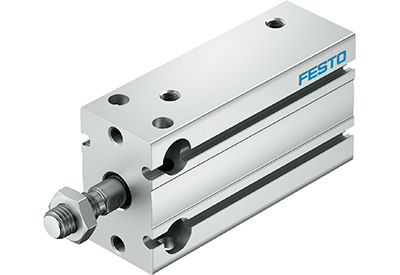 February 24, 2020
The new DPDM Multimount compact cylinder is Festo's smallest, lightest and most economical choice yet in its class. It's ideal for many applications compact cylinders perform, such as stopping or stabilizing small work pieces or work platforms in light manufacturing. It's noticeably smaller than Festo's widely used DMM compact cylinder and unique for the variety of ways it can be fastened in place directly. It can be mounted at the front or rear, vertically or horizontally, hence the "Multimount" in its name. Additionally, all mounting interfaces of the DPDM are compatible with those of the DMM, so it can be considered as a replacement for the latter in some applications.
The DPDM is available in single- and double-acting versions, with or without protection against rotation, in a variety of common diameters and stroke lengths. There is a variant with heat protection up to 120ºC, and a magnetic piston option for position sensing. The DPDM also can be ordered with a through piston rod for connections at both end of the cylinder, or with a hollow piston rod, which can be used to carry vacuum or compressed air.
For more information, visit www.festo.com.