Stellar Power & Control Solutions: Growth and Service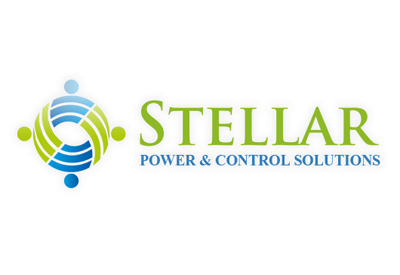 April 1, 2019
In 2015, Vector Drive Systems (Port Coquitlam, BC) and Advanced Drive Systems (Maple Ridge, BC), announced a strategic merger. The companies had competed locally as Yaskawa Distributors, but the merger resulted in the creation of a new company called Stellar Power & Control Solutions. This exciting event allowed the two companies to consolidate their greatest assets, their employees, and by joining forces the new company enhanced its experience, expertise and offering.
The partnership created a more comprehensive team of highly qualified and respected industry personnel to provide better service to customers. Joint owners Ian Lewis and Glen Follett shared a renewed vision to expand the current offering by utilizing its extensive power and control capabilities beyond the Variable Frequency Drive (VFD) market, in which they had experienced success over the past 20years.
Since 2015, Stellar Power & Control Solutions (Stellar Power) has become a leading Systems Integrators in Western Canada and prides itself on being capable of solving power and motor control challenges by delivering the experience and technology required to turn a plan into a complete solution. In 2017, Stellar Power made a significant strategic investment when the company acquired PLC Technical Services (Langley, BC). That acquisition expanded Stellar Power's ability to become a "One-Stop-Shop" solutions provider. The company could now offer package pricing for the offering of supply Electrical Kiosks, Motor Control Centres, Automation, Instrumentation and Power Distribution, with Programming and Commissioning services available on the entire product offering.
In 2018, Stellar Power was delighted to enter into an agreement with Siemens to be a Global Siemens Solutions Partner and Drives Specialists. The company values its many key business relationships with manufacturers and suppliers that support their hands-on approach to projects from the design stage through to final commissioning.
Stellar Power's team has been assembled with individuals with extensive experience and pride in the work they do. The team of 14 employees provide expertise in many areas. Keys Members include:
Ian Lewis (President). Ian has 35 years of experience in business management and organizational As President of Stellar Power, Ian is responsible for Strategic, Financial and Resource Management.
Glen Follett (Vice President). Glen has a vast knowledge of industrial motor control applications and is regarded as a valuable resource within the Consulting and Engineering communities. Glen's focus is on Customer support, Business Development and Key Account management.
Daryl Shatzko (Project Manager). With 30 years of experience to draw from, Daryl leads a team of Design, Production and Programming Specialists that deliver high quality, reliable solutions. Daryl has extensive experience in Municipal Water/Waster Water applications, including Pumping, Dosing, Valve, Control and Monitoring – PLC, SCADA Systems, RTU, HMI and Radio.
Graeme Shepherd (Sales Manager). Graeme leads our Sales Team and is an Instrumentation Technician by trade. With 30 plus years of providing his technical expertise, training and account management to the electrical industry.
In 2018, Stellar Power relocated to a larger manufacturing facility in Langley, BC. The relocation was necessary to accommodate the growth of the company.
What are your primary areas of expertise?
Product Line includes:
Variable Frequency Drive's (Low and Medium Voltage)
Soft Starts
Servo Motors, Amplifiers and Motion Controllers
Switchgear
Motor Control Centres
Kiosks – (self contained outdoor weatherproof structures housing electrical power and controls equipment) Sewage Lift Stations, Above ground PRV stations, Flow/Pressure Monitoring stations
Instrumentation – Pressure, Flow, Level, Control and Monitoring, Set-up and commissioning
Motors – Induction, Permanent Magnet, Large Synchronous, Wound Rotor, Pole Optimized
One of the company's key differentiators is the ability to service and commission systems in many key markets such as Municipal, Mining, Forestry, Agriculture, Marine, Oil and Gas, Manufacturing and Port Facilities. Many companies provide similar equipment, but it is Stellar Powers understanding of the customer requirements from beginning to end that set them apart.
Services include:
Design Build
PLC Programming
Budget Assistance (Costing, Layout, Design etc.)
Installation
Commissioning
Witness Testing (live or via webcam)
Power Quality Surveys
Infra-red Thermal Imaging
Troubleshooting
Maintenance
Repair
Training
Documentation
Stellar Power holds its position as a leading Systems Integrator of automation products and motor control solutions through its expertise and knowledge that guide customers to make informed decisions. In fact, their motto is "we can sell you a product, but we prefer to help you buy a solution". Their strength is their Service, their value is their ability to deliver a unique experience.
Providing solutions begins with establishing effective communication during the Engineering and Design stages, and continues through to Project Management, Quality Production, Testing, Commissioning, Training, Maintenance and Support. Stellar Power's goal is to become apart of the team, tasked with creating and executing projects in which all parties are proud of.
Panel Builder & Systems Integrator also asked about the distribution of projects within Canada and globally. And Stellar Power noted that their equipment is shipped throughout Canada and to industrial facilities around the world. Most of Stellar Power's custom equipment is supplied to Municipalities and First Nations communities in British Columbia, Northwest Territories and the Yukon.
Panel Builder & Systems Integrator also asked Stellar Power about the rate of upgrading versus new facilities, particularly in the Water and Waste Water Facilities. They noted that in terms of Automation and Control projects they see an equal split between upgrading existing infrastructure and new water/wastewater treatment facilities. This is good news for the advancement of such faculties that require consistent upgrading and new infrastructure.
A major part of serving the Water/Wastewater industry is responding to online RFQ's to engineered specifications. Stellar Power works closely with Consultants, Engineers and End Users to help design or modify the specifications for the benefit of the project. Developing the business is a combination of human and technology, based activities.
Direct Customer communications
Inside Sales
Retention and promotion of existing customers
Time spent with Consultants and Engineers
Tradeshows
Training customers
Nurturing supplier relationships
Business development with "alliance partners"
Website (soon to be updated)
Promotional literature
Finally, we asked what was on the horizon for Stellar Power in the coming years? Ian and Glen both noted that the province of BC has huge growth opportunities ahead. One of which is related to the Federal Governments significant investment in infrastructure and the energy sector in Western Canada. The continuing population growth in the province has many Municipalities increasing their Water/Wastewater Treatment facilities. In the 2016 Federal Budget, the Government announced $120 billion will be spent on infrastructure over the coming 10year period, with specific reference to Water/Wastewater and Green infrastructure projects across Canada. British Columbia will receive money to be spent on 57 capital and capacity-building projects.
There are clearly great things on the horizon for this company in Western Canada and globally as they continue to advance their capabilities. The company expects to enter into additional Manufacturer and Supplier Partnerships as they continue to push the boundaries of control and automation and expand to serve the growing automation and control community.
Ian Lewis (Stellar Power Power), Dongbin Wong (Siemens Canada), Glen Follett (Stellar Power)
Kiosk and Control Panel inside the Kiosk.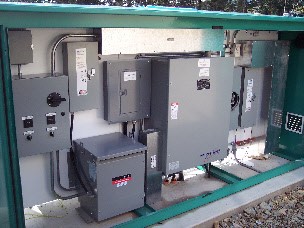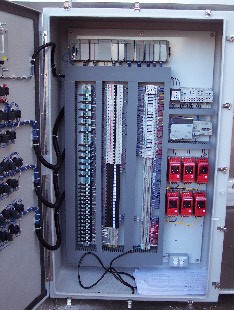 Motion Control Centre