Discussing Rolling Motion Industries and their Innovative Traction Drive with Founder, John Pawloski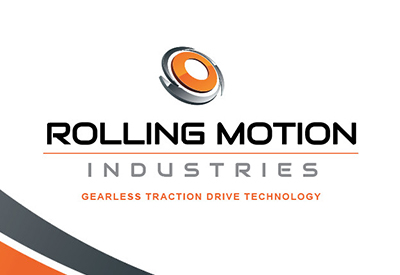 August 22, 2019
By Blake Marchand
Rolling Motion Industries (RMI) has developed and released into production an inventive gearless traction drive. With only six moving parts, no metal to metal contact and using an engineered traction fluid, these drives can reduce motor torque ripple up to 84%. Utilized in power transmission and motion control applications where precise and quiet operation is required, these drives typically last three times longer than conventional gearboxes. To penetrate a broader range of markets RMI recently partnered with SDP/SI, a leading manufacturer with 70 years' experience providing engineered mechanical solutions to medical, aerospace, defense and robotic industries.
Founded by John Pawloski, Rolling Motion Industries operates along side Jewelers Machinist Company, which began with John and his brother Ray's grandfather. Headquartered out of North Babylon, New York they operate in the thread grinding industry. John and Ray took the reigns of the company in 1995 from their father, who had in turn accepted leadership from his father.
Under Ray and John, the company upgraded its focus from conventional thread grinders to CNC thread grinders, which greatly contributed to their success. After taking over the family business, John spawned a start-up, Rolling Motion Industries with the development of an efficient and innovative traction drive.
John leant some time to discuss the company with Drives & Control Solutions, along with what went into the development of their unique technology.
One of the reasons RMI's traction drive is so innovative, besides efficient and effective transmission of power, is that John, their lead designer, is a self-taught engineer. John initially went to school for psychology, however when his father became too sick to run the company, he and his brother stepped in to run the company. Being self-taught aided the out-of-box thinking required to develop the simple, yet innovative drive.
"I had to learn the engineering, the stress analysis, the CAD design; which is why it takes a little longer," John noted, referring to the nine years it took RMI to develop the product.
"It's interesting because we're a small business and we self-funded everything," he noted. They were initially considering going after investors, ultimately deciding to go it alone. "The prototyping stage takes time, learning the engineering takes time, and really finalizing everything takes time; unless you're a gigantic company and you have tons of resources, which we don't."
The RMI Traction Drive was developed entirely in house. They handled all the initial testing, the design work and prototyping. "Doing that, while running another company (Jewelers Machinist Co) and having a family at the same time, you only have so many hours in the day."
Following the design phase, they initially wanted to manufacture the drive in-house, as well. However, being a thread grinding shop, they weren't exactly set-up for assembly. "That's another big hurdle you don't necessarily want to take," John noted.
"So, what we did was team up with a contractor manufacturer and that's when things really started to blossom."
With respect to being self-taught and learning throughout the design phase of the project, John said "it was awesome, I loved every second of it. I mean, it was fun! And it still is fun."
Learning CAD design for example, is generally something that requires a college course. However, running another business, as John mentioned, and having a family life as well, he didn't exactly have time to go the traditional route. Although, he noted that they found support in a local college, Stony Brook University. "We took advantage of their resources," he said, where they would have students assist them throughout various aspects of the development phase.
Speaking with John, it is clear that the process was enjoyable and rewarding. "I don't think of RMI as work, its just fun."
In order to do the initial prototypes in house they modified their own machinery rather than send it off to an external contractor. "We wanted to have full control over it. One of the first things I designed was actually an adapter for one of our current external grinders to do internal grinding."
The end result was a highly efficient, innovative traction drive that would earn John an Innovate Long Island Innovator of the Year Award.
The drive's efficiency is in it's simplistic design, which includes six moving parts; a cup shaft, toroidal shaft, twin bearings, rolling elements between the shaft elements, and engineered traction fluid.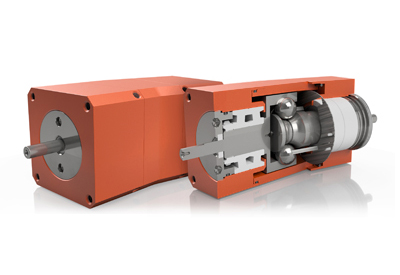 Motion Control Tips explains how the drive works: "The engineered traction fluid inside the sealed housing works for power transmission and cools and lubricates the drive. A microscopic gap between the rolling elements lets the fluid slip through — but as the fluid squeezes through this microscopic gap, high pressure causes the fluid to temporarily solidify. Then the solid structure of the fluid transmits torque from input to output shaft."
"Basically, it's just rolling motion, bearings rolling. It's very efficient and it's a simple product," John noted, "there are other traction drives out there but they're very complicated, and complicated means high-priced. Our technology is a cost-effective solution."
In the past traction drives have been too expensive to replace gear boxes, despite their energy efficiency and longevity, in comparison. "That's a hard sell, whereas for us we're on par with gear boxes and other types of transmission in terms of price."
Its applications range from the medical industry to the renewable energy sector, including, dialysis machines, hospital beds, golf carts, electric cars, pick and place systems, conveyors, 3D printers and industrial automation, HVAC and pumps, as well as for use in windmills and solar panel positioning.
In water pumps, for example, RMI's traction drive is ideal because you can downsize the motor without sacrificing power. "By having a 2:1 ratio traction drive you are able to go to from a four-pole to a two-pole motor, where your power factor is higher, and efficiency is much higher."
It also ideal for high RPM applications that are not suited to gear boxes, "we're never going to replace every gear box, but for a lot of applications we're just a better solution."
Another key component to their success is establishing a distribution network and finding good sales partners, which takes time as well. RMI recently teamed up with Stock Drive Products/Sterling Instrument (SDP/SI) located in Hicksville, New York, a company they have a 40-year-plus relationship with for sales and distribution. SDP/SI, established 1950, engineers and manufactures precision gears, machined components, molded parts and complex assemblies for small power transmission and motion control applications. John said they are well positioned to take advantage of opportunities throughout the applications listed above.
When the concept for the traction drive first came to him, John wasted no time in hashing out his idea, driving down to their shop at 2am and to work on the first prototype. "At that point it worked in my head, it worked in reality, but there are still a lot of questions to be asked," he said with respect to furthering the development. Patenting the technology, for example, "that's just as important, if not more important," he noted.
A crucial aspect in the success of any business is having a quality support system, which is why they set up an advisory board that includes engineers, PhDs, as well as patent attorneys and business attorneys. Surrounding themselves with quality expertise has allowed John to grow the business confidently.
"A big key is to surround yourself with the smartest people you can find, because you always have to be able to say to yourself, 'I don't know everything'. You have to be realistic."
RMI is now at the point where they are ready to move the product, increase awareness in the industry by attending trade shows, and ultimately, take advantage of the diverse market of applications. John noted they have been getting some great publicity simply from the fact that new mechanical innovations like the RMI drive aren't as common as with other technologies.
Working with SDP/SI the next steps are expanding domestic and international sales, and getting the product into the market place. "We're dealing with a lot of large OEMs (Original Equipment Manufacturers), so we're just going to the next level and really bringing it out."
John also noted that now they have their distribution and sales networks firmly establish, they want to continue to develop more innovative products. John wants RMI to be a company that is constantly innovating and coming out with unique products. And with the success they've had thus far, coupled with the support system they've established in their advisory board, they seem to be well positioned to do just that.
"Everyone always told me, since I was a kid, that I had an overactive imagination," John said, chuckling, "I think they were right."