Specifying Transformers for Hazardous Locations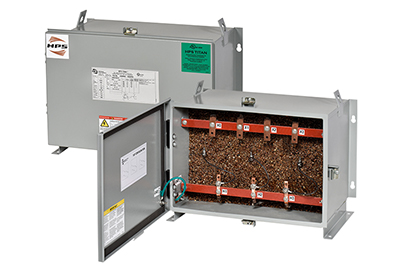 January 9, 2019
There are many requirements to meet when specifying transformers, such as basic performance parameters that include kVA, low and high voltage ratings, line frequency, etc. One must also consider the environment in which the transformer will be used. It is common in many industrial locations to find hazardous materials such as flammable liquids, gasses, vapors or combustible dusts in sufficient concentration to produce an explosion or fire. Electrical equipment installed in such a classified location must be designed, and tested, to minimize the risk of an explosion. These specially designed products ensure that sufficient energy is not available to ignite the specific hazardous material(s) present in the classified location. Electrical equipment rated for use in hazardous locations is typically more expensive, but the higher performance trade-off makes them valuable.
Simply providing a transformer to install in a hazardous location area is not enough; one must also consider other critical application criteria such as available short circuit current (impacted by transformer impedance), ease of installation and accessibility, as well as ongoing maintenance cost.
Regulations related to hazardous locations have been formulated by the International Electrotechnical Commission (IEC), and they use a Zone classification system. In North America, both the US National Electrical Code (NEC) and the Canadian Electrical Code (CEC) now also recognise the use of a Zone System for classification of hazardous areas.
HPS Titan N
HPS Titan N is designed in accordance to North American hazardous location regulations. The product has been tested to ensure the required uniform safety standards for electrical equipment used in hazardous locations have been met.
HPS Titan® N is currently approved for Class 1, Division 2, Groups A, B, C, D and Class I, Zone 2, Group IIC, T3 Hazardous Locations as defined by ANSI/ISA 12.12.10, UL 5085-1 and UL5085-2. IECex approval is in progress and will be available in 2019.
Extensive Temperature Range Flexibility
One of the most important considerations in a hazardous area is the temperature rating of the electrical equipment. The surface temperature of any parts that may be exposed to the hazardous atmosphere must be tested so that it does not exceed 80% of the auto-ignition temperature of the specific gas or vapor in the area where the equipment is intended to be installed. The HPS Titan® N standard designs are flexible, and can be installed in locations with a wide range of ambient and application temperature performance requirements (exact temperature performance may vary by kVA in some cases).

In 40°C ambient temperature:
o T3C temperature performance is available with 80°C and 95°C rise units
o T3A temperature performance is achieved with 115°C units

In 50°C ambient temperature:
o T3C temperature performance is available with 80°C rise units
o T3A temperature performance is achieved with 95°C and 115°C rise units
The broad temperature performance capabilities of the Titan N makes this transformer adaptable to a variety of applications.
Rugged Construction
HPS Titan® N has a core and coil that is completely encapsulated in epoxy and silica. This construction physically separates and isolates electrical parts, and helps reduce surface temperature. This minimizes the possibility that it can ignite hazardous materials within the surrounding area. Specialized areas, such as an offshore location, are addressed with enclosures made from more durable stainless steel.
Prevent Critical Electrical Conditions
HPS Titan N has an innovative design that limits electrical inrush and short circuit currents, minimizes the impact of voltage spikes and maintains the external surface temperature at safe levels under both
normal operation and fault conditions. The impedance of a transformer determines the maximum current during a short circuit fault. The lower the fault current, the lower the interrupting capacity of a circuit breaker or fuse employed to
protect the primary connection of the transformer. HPS Titan N has higher impedance levels to help lower fault current levels, requiring less expensive lower AIC rated circuit breakers or fuses.
Inrush current at energization is a source of much frustration for field operators when it immediately trips a circuit breaker or blows a fuse. Was it genuine fault? Is it risky to energise again? Is there something else at play? Determining these answers before re-energizing the equipment takes time and costs money. Titan N reduces the potential for the nuisance tripping of circuit breakers or blown fuses with significantly lower energization inrush currents Mother Nature is unpredictable and has it own rules. A lightening strike or other utility power line disturbances can cause voltage spikes. This can cause transformer and other equipment damage. With a standard 10kV BIL protection HPS Titan N can minimize the impact of voltage spikes.
Lower Installation & Maintenance Costs
There are many hidden costs in the installation process of a transformer. When accessing the wiring compartment of transformer, you need to account for time necessary to physically open the panel and create proper cable connections. With this in mind, HPS has designed the enclosure with a front opening removable hinged door with simple, secure screw clips. These adjustable screw clips provide labour savings and fast access to the wiring compartment. Their captive design also prevents their loss when opening the compartment. The wiring compartment of HPS Titan N is large and allows for easier cable routing as well as bigger wire bending radius. If periodic maintenance is required, it is quite easy to gain access to the wiring compartment.
HPS Titan N easily adapts to various applications instead of the customer altering the application to fit with the transformer. Titan ® N will be available for sale on January 9th, 2019.
For more information visit https://www.hammondpowersolutions.com/product/hpstitann/