Smart Pneumatics for Today's Industrial Automation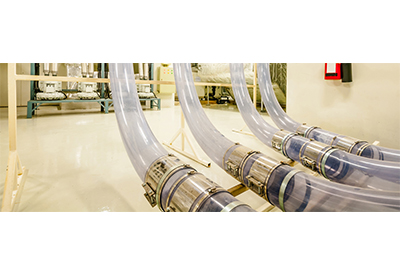 September 14, 2020
At the pioneering water treatment plant of the Landeswasserversorgung (state water supply company) in Langenau, Germany, one of the most modern in Europe, designers had several automation and control system options when planning to build a new ground water filtration system. After careful consideration, they ultimately chose a pneumatic automation solution from Festo for use in multimedia and activated carbon filtering basins. Such applications demonstrate in real-life how pneumatics continue to be a popular choice for automation in many critical operations, across numerous industries.
The Market for Pneumatics in Automation Applications is Growing
When the research firm Technavio explored the use of pneumatics for automation, they found that the global pneumatic actuator market was highly competitive. There are several dominant players worldwide, with small and local firms also competing for demand throughout the world. Per Technavio's research, "vendors compete in terms of price, brand image, turnaround time, quality, proximity to service centers, technical expertise, and installation history."
The aftermarket segment is slightly different. International vendors face stiffer completion from local companies producing aftermarket spares at low prices. Pneumatic actuator parts lend themselves to commoditized price competition for aftermarket parts as the barrier to entry is low, given standards that are quite common across industries and allow for easier production of parts to replace or use in repair.
Digital or Pneumatic? Well, It Depends…
There is a common misconception that configuring a new industrial facility means having to choose between electric and pneumatic. But pneumatics, digital electronic and electromechanical controls may coexist, and can often even be symbiotic.
That being said, digital automation and control systems with electronic components using I/O Link are the at the forefront of automation technology, but they require extensive capital investment in equipment and refitting. Companies who want to implement more automation in their facilities may or may not have the resources to make those large investments, so pneumatic control and actuation can be a more cost-effective alternative.
Systems outfitted with Industrial Internet of Things (IIoT) and digital controls – many of which are wireless – can be implemented incrementally, require minimal maintenance and are durable. That is why pneumatics should remain as viable options. But that is not the only reason they will.
In the case of the Langenau water treatment plant mentioned earlier, digital and pneumatic components are each used where best suited. Sensing and many other aspects of the facility's automation use electronic solutions, while pneumatic actuators work directly to activate shut-off devices and pistons. Actuator shafts can successfully, efficiently, and reliably convert linear compressed air into a swivel motion, providing the required speed and force for that system. The only source of significant energy consumption in such a system is from the compressors that supply the compressed air. The energy consumption is minimal, the pneumatic components are durable, and the delivered power is sufficient, making pneumatics the smart choice.
Pneumatics Are Well-Suited for Harsh Environments
Since pneumatics can stand up to harsh environments that are not digital-friendly, an industrial mining operation, for example, may find that pneumatic components provide significant automation capability without the delicacy of digital control systems. In such environments, control systems must be designed and installed to operate thousands of cycles with often extreme elemental exposure. Pneumatics fit for such environments and have proven to be effective and durable.
"The rugged nature of pneumatics systems enables them to withstand many extremes of temperature, pressure and environmental conditions," says Stephen Horvath, a field application engineer at Allied Electronics and Automation. "Material properties today are now so much improved, and production techniques so much enhanced, that high-volume manufacturing is increasing across the industry. This is helping to improve overall quality and reliability while also reducing the costs of core components, such as pneumatic valves and cylinders. No other technology can operate in such diverse conditions, making pneumatics the obvious choice for repetitive, high-volume, 'fit and forget' applications."
Maintenance and Technology Improvement
Pneumatics require minimal maintenance, but that does not mean it can be overlooked. It is important to implement a leak detection system, for one, as leaks can mean the compressor will run to maintain a set pressure and unnecessarily consume more energy. Pneumatic component maintenance is required as well but is often straightforward and simple. "Besides lubricating a few moving parts and making sure connections are tight, you won't have to do too much maintenance once pneumatic gear is in place," says Horvath. "Air circuits generally only lock up if they get moisture in them, so you probably won't have to invest much time into troubleshooting either."
Horvath adds that filter replacement is also required periodically. "Air is filled with various particles that we cannot see due to them being molecule-sized," he says. "They can include oil droplets, which would affect the air pressure and cylinder space. Filter replacement is a good thing, because if your filters are catching sediment that would otherwise clog your machine that means that they are fulfilling their purpose."
A Role for Pneumatics in Digitization
Undoubtedly in the future, digital control systems will continue to become less costly, more effective, and more efficient. Sensors and connected devices will be designed for more accuracy, durability and compatibility with other components and systems. Even as more digitization takes place, we can still expect pneumatic controls and actuation to continue to do much of the heavy lifting for years to come to deliver power where it is warranted in industrial control systems.
Recognizing this continued utility, technology associated with pneumatic controls is also advancing. For example, position sensors provide invaluable support to process control and optimization, particularly in applications where consistent high quality, speed and replication are essential. "Position sensors are ideal for long-term deployment in challenging environments, as they can be upgraded with custom enhancements such as resistance to vibration, shock, chemical exposure and preventable water entrance," says Horvath.
Pneumatic parts are durable and often less expensive when they do need replacement. It is important to consider the combined effect of the durability, long lifecycle, availability of spares and energy consumption of pneumatic components. This combination makes pneumatic controls an attractive choice for any automation and control configuration that warrants such characteristics.
"One of the key theories driving the future of pneumatics is its overall equipment effectiveness, which is improved with a boosted understanding of machine systems and processes," says Horvath. "While the focus is very much on the electronic and digital control of automated systems, this doesn't necessarily prevent a future for pneumatics, as many material elements of the pneumatic system are able to adapt their designs and processes to incorporate IIoT factors into their operation."