Rittal Takes Hannover Messe to the Next Level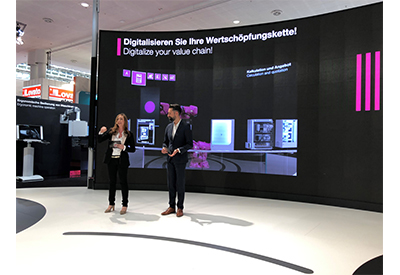 April 18, 2018
By: Owen Hurst
As many know the annual Hannover Messe trade fair was held in Germany at the beginning of April. Each year this immense fair provides the latest trends and product insights in the fields of integrated automation, control, drives and energy. This year Drives & Control Solutions was privileged to attend the fair with Rittal.
Of course, Rittal needs no introduction to our audience as their enclosures are very well known and respected within the Canadian market. However, if you have not attended the Hannover fair or had the privilege of visiting Rittal's Headquarters in Herborn, Germany, you may not be aware of all the innovations and initiatives that are being undertaken to better serve you.
Visiting Rittal's manufacturing plants was very informative as the company has made substantial advancements in their manufacturing capabilities, instituting much of the industry 4.0 initiatives and trends that have become the talk of the industry over the last few years. Much has been implemented to enhance production, ensure worker safety and provide real-time data regarding production. Most impressive was their newly built and highly automated facility.
The facility boasted many automated guided vehicles (AGVs) for delivering and retrieving materials and finished products and aiding in the palletizing process. Further, an extensive rail system that carries parts throughout the facility provides a safer workspace and the capacity for additional parts handling. Also, highly impressive was the automated laser welding of small enclosures, that contributes to boast a production time of just 10 seconds when the facility will run with full capacity. Another interesting feature that is within the same facility, is Rittal's Innovation Centre. This facility provides a training ground for customers, students and staff to learn about Rittal and EPLAN's innovative solutions, procedures and future technology for switchgear engineering in a working environment, such as advanced Perforex machines and the new automated wire stripping booth called Wire Terminal.
One of the most exciting products featured by RIttal was the VX25 enclosure that will be making its Canadian debut in late 2020. The enclosure delivers advanced features while providing a simplified solution that takes advantage of Rittal's complete value chain and digital workflow (engineering-system-automation). And of course, through the utilization of Eplan software one can always have a complete digital twin of the panel to ensure accuracy and troubleshooting. In all, the new VX25 will provide simplified, more consistent baying technology, ease of assembly through improved installation kits and efficient engineering with a 25mm pitch symmetrical pattern frame profile that is accessible from all sides, easier installation and removal of doors and walls, and a better use of space and work simplification thanks to compatibility of the enclosure and base.
The trip also showcased the manufacturing facility for the new AX and KX small enclosures that have over 30 new features including 30% more cable space and providing up to 30% less assembly time. Not only that but Rittal has introduced the digitalization of enclosure panels, offering QR codes on all panels to be machined, simplifying the automatic incorporation and providing digital monitoring from receipt through to completion.
And now to the Fair. First and foremost, the Hannover Fair is mind boggling in regard to its size, even for those who have attended in the past. One cannot relate the experience in words, or the amount of time that can be spent in each booth. Even the term booth needs to be reconsidered as many of the booths, including Rittal's, easily cover 10,000-15,000sqf, with second floor sitting areas and bars. In regard to the Rittal booth, seeing the product offerings and discussing new solutions with staff goes well beyond simple viewership and information gathering but has been made into an experience. From the time you first set foot onto their showcase floor, the ability to directly interact hands on with products develops an experience that can take you deeper into the products than is traditionally available at trade shows.
Beyond that, travelling with a company like Rittal, and other likeminded Canadian professionals, provided networking at an enhanced level that develops working relationships and friendships that return to Canada, bolstering collaborative efforts among manufacturers, distributors, service providers, end-users and media representatives.
My hat is truly off to Rittal and the efforts they undertake to educate their partners and the industry about all solutions and opportunities they have to offer.
Visit www.rittal.ca