How Festo Is Filling the Training Gap with Workforce Development
November 14, 2022
By Krystie Johnston
A Growing Problem: The Current Landscape of Manufacturing in Canada
Labour and skills shortages are among the most pressing challenges that manufacturers face today. Access to a large, high-quality workforce is critical for manufacturing to be successful. This workforce is the driving force for innovation and is essential to making the most of new technologies and production methods. Canadian Manufacturers & Exporters recently conducted a survey of over 225 manufactures from across Canada and found that more than 85% of manufactures are struggling to fill vacancies, youth are increasingly unprepared and uninterested in working in manufacturing, and employers lack the capacity to invest in skills and training. In short, labour and skills shortages are dampening manufacturing in Canada, and it is necessary to provide solutions to improve this situation. And there are steps that can be taken right now to make improvements today and for the future of work.
Employers and educational institutions need to promote manufacturing and realign the workplace and training environments to create the workforce that is needed to fill the gap that exists in manufacturing. Steps that can be taken today include promoting manufacturing careers to youth, refocus Canada's education system to connect youth with jobs, upskill workers, and attract under-represented groups into manufacturing. The good news is, is that some of the most leading companies involved in manufacturing are taking these steps (and some having started decades ago), and they are working with educational institutions and governments to fill the skills gap that manufacturing is experiencing today. Festo is one such company who has been leading the charge for technical education at a global scale. In this article, Greg James, Regional Sales Manager – Festo Didactic Ltd. shines some light onto what is being done in Canada to help ensure there are enough skilled workers available to keep the factory of the future running.
"Anyone who runs a manufacturing facility nowadays is painfully aware of the acute shortage of skilled technicians who can keep automated production machinery humming. Industrial companies have learned that one way to get workers with the right skills is through their existing workforce. With the right curriculum and delivery methods, these workforce development programs can give workers a grounding in pneumatics, electric automation, robotics, controls, and other automation technologies that play a role in modern factories," Tony Oran, VP Sales, Festo Didactic, North America.
The Solution: Workforce Development to Fill the Training Gap
Festo is a global leader in technical education. As an international partner to training institutions, governments, government agencies, and businesses, Festo designs and implements training systems and labs, as well as learning systems and training programs. They systematically prepare skilled professionals for working in dynamic and complex environments. Festo Didactic is an education company with deep roots in manufacturing automation and leverages its industry expertise to offer a wide range of learning solutions that support skills development in all aspects of mechatronics and factory automation. Their customer base includes Secondary Schools, College, Universities, and Industry.
Festo offers a turnkey solution for implementation of STEM programs for high schools that understand the need to incorporate problem-based learning environments into their education system
Festo has partnered with educational institutions such as the Barret Centre for Technology and Innovation at Humber College in Toronto ON. There, Festo collaborates with Humber on a STEM outreach program to engage Ontario youth and provides internship opportunities for students at Festo headquarters in Germany, as well as employment pathways to Festo's Customer Interaction Center in Toronto. They work with our industry partners to provide Festo certified training courses in a variety of topics including Fluid Power, I4.0, etc. This enables workers from industry to pursue other courses and certificates offered by their regional college.
"Festo Didactic has been supporting secondary schools, colleges, and universities in Canada for decades. Our diverse product portfolio provides solutions for students at all levels. At the secondary school level, our aim is to create awareness for students to pursue careers in manufacturing and technology. Our goal at the College and University level is developing Learning Systems that fulfil the demands of industry. Our vision is to make the manufacturing sector in Canada more competitive." Greg James, Regional Sales Manager – Festo Didactic Ltd.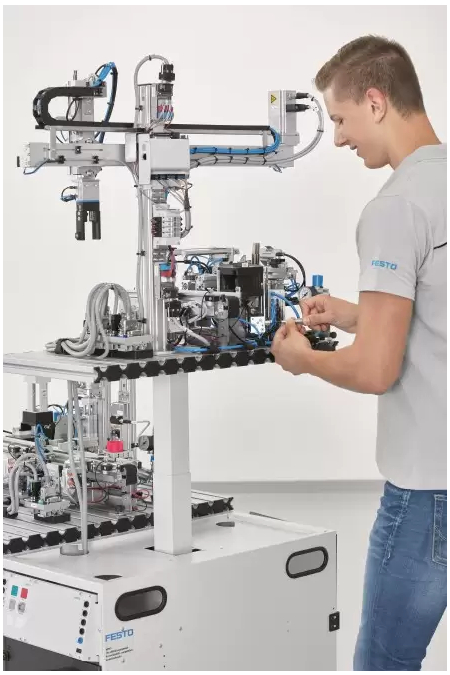 From the fundamentals of technology to complex relationships in industrial automation, MPS® covers a wide range of subjects and technology
Other initiatives from Festo Didactic that are engaging youth and developing a workforce for the future include partnerships with the NC3, the National Coalition of Certification Centres. NC3 implements and sustains in-demand, portable, industry-recognized certifications built on national skill standards. Their Train-the-Trainer program is an important step toward enabling instructors from partner schools to implement and teach courses at their local school and certifies all instructors are delivering same level of qualification. The Festo Industry Certification Program is a comprehensive certification that ensures students have the qualifying skills upon completion.
In addition, Festo has been a proud sponsor of the Mechatronics competition with Skills Canada since 1992. Contenders build a mechatronic system using Festo Didactic's factory floor-ready training equipment – namely, MPS (Modular Production System), – for the unique opportunity to engage in learning beyond the classroom and put their skills to the test in a real-world situation.
As a leading provider of Learning Systems and Training to the educational and industry sector, Festo Didactic recognizes the importance of providing courseware and content for their Learning Systems. With digitalization, the world is in a profound transformation process that is changing the way we communicate, work, and learn. Where the possibilities change, the demands on learning and teaching must adapt to stay alive.
Festo's Workforce Development uses blended learning systems which include hardware, software, and their newly developed Festo LX Learning platform. Their comprehensive training solutions range from individual learning systems, complete workstation systems, training packages, and training factories, to software, eLearning, and courseware. Designed for a wide range of technology fields, Festo's solutions cover your specific training needs and help you convey complex subject matter in a clear and practical way.
Details About the Festo Learning Experience: Festo LX
Festo LX is an online portal for teachers and learners to access and create customized learning experiences. This portal allows students to access Festo Didactic courses and content and provide lifelong learning.
This video showcases what the Festo LX Learning Portal can do.
For Educational Institutions, this is how Festo LX makes life easier for educational institutions and teachers:
•Receive ready-to-use, modular, curated, and didactically prepared learning content for various fields of technical education.
•Customize your courses and easily create new ones based on learning nuggets.
•Provide a motivating, convenient, and innovative learning experience to your students through modern learning methods.
•Support your learners individually in heterogeneous learning groups by observing each learner's progress.
•Manage your learners' competencies and test the acquired knowledge with quizzes and tests.
•Easily manage your institution's equipment and receive recommendations for related courses based on your learning systems.
•Receive a wide range of learning content and courses, both standalone and hardware-related depending on your equipment.
For Industrial Clients, this is how Festo LX makes it easier to train and educate your workforce for the future:
•Receive ready-to-use, modular, curated, and didactically prepared learning content for various fields of technical education.
•Ensure flexibility. Employees work on their qualification topics remotely whenever and wherever it fits best in their schedule.
•Monitor the learning progress of your employees.
•Be on the safe side: Festo LX provides reliable IT security standards.
•Rely on high-quality standards of Festo Didactic learning resources and Festo industry expertise.
For Personal Growth, this is how Festo LX makes learning more individual and fun:
•Receive easy-to-use and modular eLearning material for various fields of technical education.
•Access your individual courses and monitor your personal learning success.
•Experience learning on a whole new level with learning content related to the tasks you will face in your future career.
•Learn wherever and whenever you like. In breaks, at home, or on the bus with your mobile devices.
•Easily get help from your teachers and friends: ask questions or send images and other uploaded media.
Festo will be launching course dates for 2023 shortly, please refer to their website in January for more information. Technical education | Festo CA