Ahead Of the Curve with Hairpin Production
May 31, 2023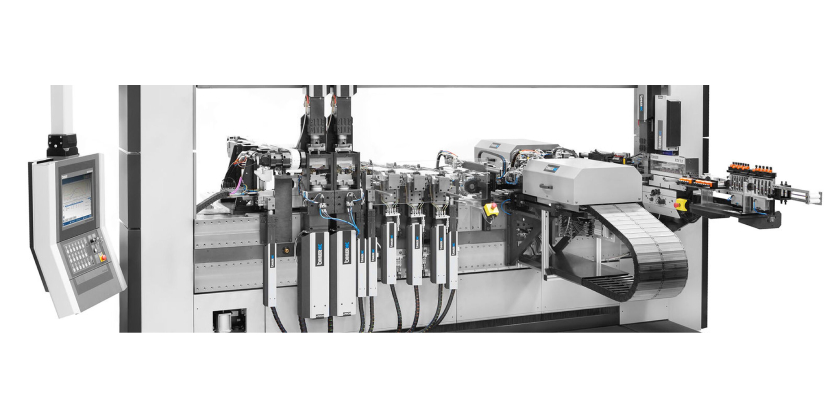 Stamping and forming machine builder Bihler has developed an innovative servo production system for the hairpins used in electric motors. With short cycle times and automated changeover between variants, the system is particularly efficient at producing the bent copper parts in high quantities. For automation and motion control, Bihler relies almost exclusively on solutions from B&R.
Many automotive manufacturers and suppliers rely on solutions from Otto Bihler Maschinenfabrik to manufacture components for electric motors in a fully automated, flexible and material-efficient manner. Bihler's more than 40 years of experience are particularly helpful in the forming of precision components like hairpins. These hairpin-shaped coil segments are installed in large quantities in the stators of electric motors. They enable more compact powertrains with higher power density in electric vehicles. Bihler developed the BM-HP 3000 servo production system for the series production of hairpins at a well-known automotive supplier.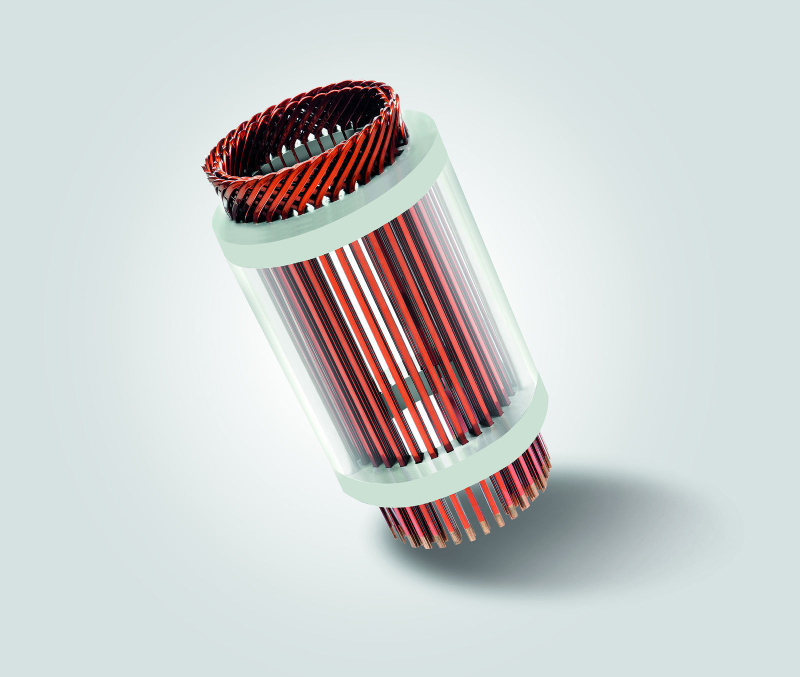 No fewer than eight machines will be used there to produce different hairpin variants. To achieve the short cycle times needed for highly efficient mass production, the process modules that make up the line must be tightly coordinated. "This ranges from the infeed of enameled copper wire to the outfeed of finished hairpins, sorted by type," explains Martin Lehman, Key Account Manager Electromobility at Bihler.
Output tripled with on-the-fly changeover
"The BM-HP 3000 enables an output of 60 to 120 hairpins per minute, depending on wire cross section and leg length. That's three times what's possible with a sequential system." Fast variant changes play an important role in the line's high productivity.
The change of head geometry and leg length from one variant to the next is possible on the fly. The machine adjusts to the new variant fully automatically without changing the output rate. New product data is simply uploaded via the machine's VariControl central control system. Technology from B&R provides an important contribution to the high flexibility and throughput of the BM-HP 3000.
"We are currently able to store up to fourteen electronic cams on B&R servo drives and easily switch between them in a software-controlled, non-reactive manner. This allows adapting the concerned NC axes to changing hairpin formats and different wire and coating materials on the fly without reloading cams," explains Richard Wagner, Head of Control Engineering at Otto Bihler Maschinenfabrik GmbH & Co. KG.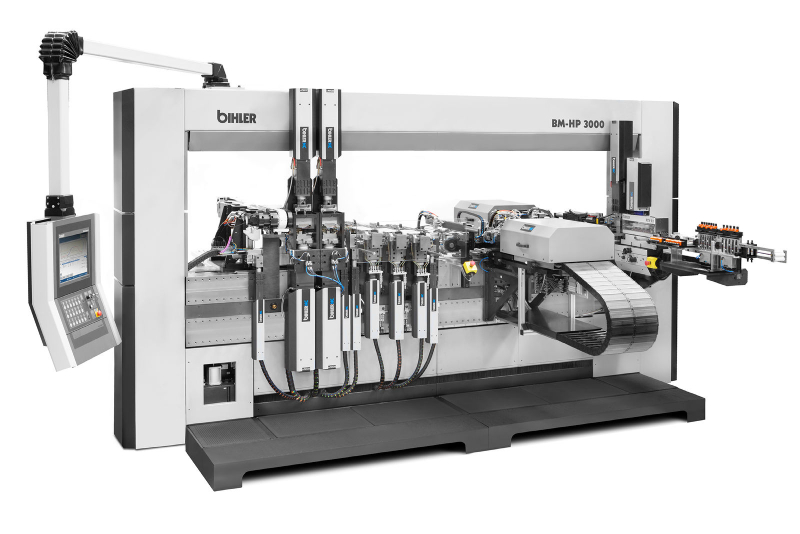 The ability to store cams on the servo drive also relieves the communication bus during operation. "This is a crucial factor that should not be underestimated in the overall evaluation of an automation solution," adds Wagner. "Even if your communication bus has a very low cycle time, you can still end up with higher overall cycle times. What matters is how efficiently we can use the transmission medium. And here we achieve attractive cycle times with POWERLINK thanks to the option of storing cams on the servo drives."
60 to 120 hairpins per minute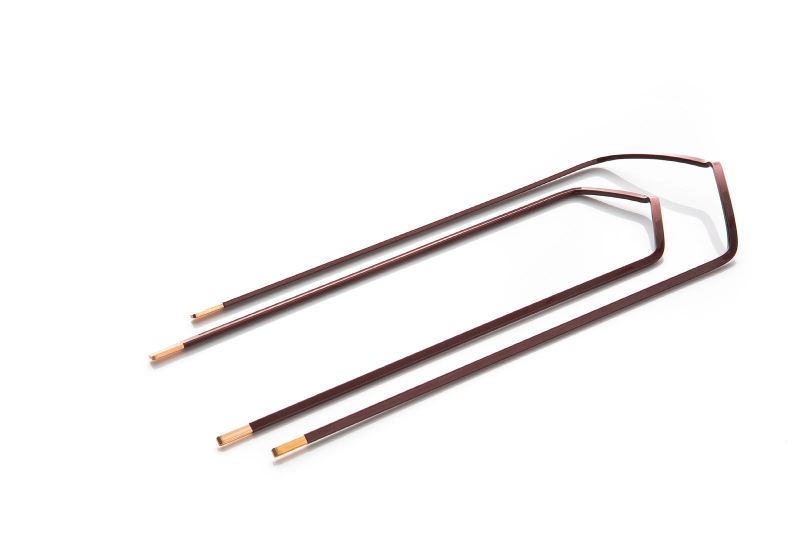 The first BM-HP 3000 at the automotive supplier is equipped with a total of 70 servo drives from B&R. It produces 80 hairpins per minute in six different variants and is designed to accommodate up to ten variants. This high output is also owed to the process design: There is no sequential process of free forming hairpins that slows down the entire machine. Mechanical stripping is divided into four separate steps performed in parallel, making it significantly faster than the laser stripping used in many conventional hairpin production systems.
As a result, the BM-HP 3000 achieves an output that is about three times higher than conventional systems. In addition, users can choose from an extensive range of different servo process modules for manufacturing, assembly and machining tasks. This allows the machine to be adapted to changing requirements even after delivery and initial commissioning.
Adaptable and scalable
Bihler developed the VariControl machine controller using the C++ programming language based on B&R's Automation Runtime and was therefore able to consistently modularize the software. This allows for easy, fast and direct programming and configuration of applications. "The fact that no separate programming device is required for this was one of the main reasons we chose B&R right from the start," recalls Wagner.
This is where another aspect comes into play that makes technology from B&R so attractive to machine builders like Bihler: Every time the machine is restarted, the system scans the machine network and detects newly connected B&R devices, which can then be integrated directly via the control system.
"The possibilities offered by B&R technology open up numerous and ever new ways for us and our users to design or expand a machine," emphasizes Wagner. "Take servo drives, for example: Here, the B&R product offering covers the entire spectrum from 1.8 A to 200 A. The portfolio is constantly expanding in all directions, so we have been able to continuously reduce the number of suppliers we need over time."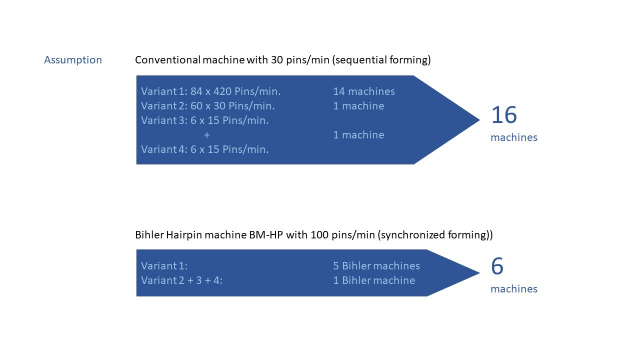 In this case, Bihler built the automation solution for the BM-HP series almost exclusively with products from the world of B&R. Starting with safety technology, through communication technology including decentralized I/O modules, to industrial PCs as the hardware platform for control and HMI applications, as well as panels for the operator interface.
The bottom line is that OEMs and suppliers get a machine solution with proven processes, scalability and high flexibility that enables them to produce hairpins in high volumes in a highly efficient, economical and reliable manner.
Author: Franz Rossmann, Technical Journalist
Related Product
B&R's ACOPOS P3 servo drive can be used in machines regardless of where they are deployed. Machine builders save the cost of building different variants of a machine for each country, because the ACOPOS P3 is compatible with all common power supply systems worldwide.