ABB Inaugurates New Fully Automated Production Line in Västerås
April 26, 2023
ABB Electrification Smart Power invests in fully automated production line for contactor production
Automation improves production efficiency and working environment at ABB Västerås, Sweden
ABB is investing more than SEK 40 million (USD 4 million) in a new fully automated production line for the manufacture of contactors in Västerås, Sweden. Contactors from ABB Electrification Smart Power are used to safely control large electrical currents in applications such as motors, trains and wind energy.
Linda Wennberg, HUB Division Manager, ABB Electrification Smart Power, said: "This investment is a positive commitment to the future. Electrification and Energy Transition mean strong demand for ABB contactors, which provide safe, reliable switching for applications that require power to be turned on and off rapidly or frequently. The fully automated production line will enhance ABB's competitiveness and further improve the speed and quality of our delivery for customers."
The automated production line enables ABB to meet complex customer requirements more efficiently, manufacturing contactors in three sizes with hundreds of different variants. Assembly is fully automated with 14 ABB robot providing high levels of quality and safety. The production line, designed and built by Elektroautomatik of Skövde, also uses ABB control systems, operator panels, relays and safety systems.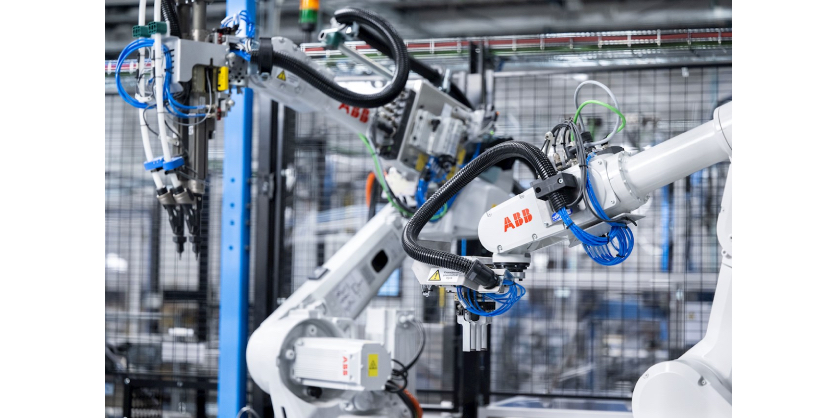 The new production line improves both ergonomics and productivity, making it an excellent showcase for a complete solution built with ABB's high-tech products," said Karin Berntsson, project manager at ABB Electrification Smart Power.
The development of the production line took place in close collaboration with R&D at ABB Electrification Smart Power. ABB Västerås has also collaborated with suppliers to minimize repackaging of materials, which has created both more efficient handling and better ergonomics for employees.
"At ABB, automation is enabling repetitive tasks to evolve into highly skilled roles," said Karin Lundbom, Production Manager at ABB Electrification Smart Power. "This is a major improvement in our work environment. For ABB operators, take responsibility for a fully automated line requires training and professional development, and provides highly skilled work opportunities."
Related Story
ABB is accelerating its growth strategy in the United States by investing approximately $170 million and creating highly skilled jobs in manufacturing, innovation and distribution operations. ABB is committed to growing in the US by investing in its electrification and automation businesses that meet increased demand from industry-leading customers, while supporting the clean energy transition and the trend towards reshoring of production.