Path to North American Approval of Uncertified Electrical Products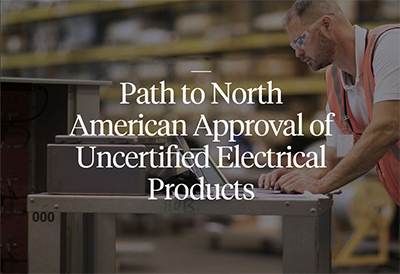 February 6, 2019
Go HERE to register
Unique circumstances sometimes make it challenging, impractical, or even impossible for products to undergo the traditional certification process. This could be due to new technology that does not fit within a current standard, custom or imported equipment or impracticality due to limited volume production runs. Additionally relocating, modifying or refurbishing equipment introduces additional compliance requirements that if ignored can prevent a product from being placed in service.
In these unique situations, contractors and manufacturers of electrical products need to understand the steps to take to avoid having equipment red-tagged and prevented from being connected or installed at the job site.
A field evaluation, or special inspection as it is referred to in Canada, may be the solution. This one-time evaluation service is quick and efficient, and helps get your products into North America when you need approval from local Authorities Having Jurisdiction.
In Canada, it is mandatory to comply with SPE-1000 – Model code for the field evaluation of electrical equipment. Many areas in the U.S. also require field evaluations, so Canadian companies with products destined for the U.S. will benefit from utilizing NFPA 791 to meet local electrical safety requirements.
Join CSA Group's Bob Nelson and Randy Wyryha on March 6th for a FREE in-person seminar as we provide an overview of Canadian and U.S. codes and standards to help ensure your products are accepted by state, provincial, and territorial authorities.
By attending this seminar you will gain insights in the following areas:
The regulatory framework in North America
General overview of the Canadian Model Code, SPE-1000, and NFPA 791
Document and construction requirements
How to obtain a CSA Group field evaluation and special inspection
Date: March 6, 2019
Time:
Registration & Breakfast: 8:00 am – 8:30 am
Presentations: 8:30 am – 12:30 pm
Location: Delta Hotels by Marriott Toronto Airport & Conference Centre
655 Dixon Rd, Toronto, ON M9W 1J3
Meeting Room: Mississauga AB
Parking will be validated
Cost: Complimentary
Presenters:
Bob Nelson, Instructor – Learning Services, CSA Group
Randy Wyryha, Technical Advisor, Special Inspections, CSA Group
John Rimac, Business Manager, Field Evaluations & Verifications, CSA Group
AGENDA
General Overview of Canadian Model Code
SPE-1000 Overview and Construction Requirements
Tests and Markings for SPE-1000
Scope and General Overview of NFPA 791
How to Obtain a Special Inspection and Field Evaluation
Go HERE to register