ABB reinvents process control with new generation human machine interfaces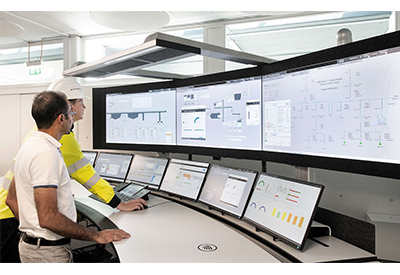 September 18, 2019
Successfully operating in more than 450 cement and mining sites worldwide, the ABB Ability System 800xA Minerals Process Control Library is a ready-to-use, tailor-made automation software solution for the mining and cement industries. It is designed to achieve the highest plant productivity, availability and safety, as well as the best operator efficiency. The new ABB Ability System 800xA Minerals Process Control Library update offers additional functions that are now available with the new version of the ABB 800xA 6.1 automation platform.
This version comes with a completely new clear and intuitive graphical interface for process displays, faceplates and workplace layout providing operators with relevant process information in its situational context. This enables awareness of any given situation in a plant. It also offers an extensive set of options for adapting presentation so that focus can be tailored, and users can navigate to the required information much faster.
A key new feature is the unique alarm system which enables plant operators to immediately detect, understand and resolve all types of process situations and disturbances in minimum time. The most critical elements of the production process are emphasized through a combination of context-based information and consistent alarm colors and shapes, ensuring that attention is always drawn to those requiring immediate response.
The wider release follows the first installation of ABB Ability System 800xA Minerals Process Control Library at the Hoghiz cement plant in the Brasov region of Romania which produces 1 million tons of cement a year.
"Following the upgrade of the automation system to the latest version of ABB Ability System 800xA which has been in operation since early July, process displays are much clearer." says Razvan Cocea, Head of Electrical and Automation for CRH Hoghiz Plant. "With the new visual control graphics, it is now immediately obvious which equipment requires attention. The new process alarms instantly alert operators when something is wrong. They can then easily navigate to the detailed displays to find the root cause of the problem and take appropriate measures to bring the process up and running again."
"Thanks to a continuously growing level of automation and intercommunication fewer people are now managing much larger plant areas," said Michael Marending, lead engineer at technology leader ABB. 'This adds complexity to daily plant operation and places increasing demands on today's control room personnel. The ability of humans to be able to respond, with good decisions at the right time, is crucial for the optimization of plant efficiency and reliability."
"Visualization is critical to the process, providing the main interface between humans and the production site. This new HMI offers a whole new set of functions and makes real-time information much more accessible to operators. The new visual control graphics make it easier for all users of the system to take the right decisions in any situation and allow operators, maintenance and engineers to collaborate in new ways. Visual control graphics can be easily integrated into other existing ABB and external vendor subsystems."
ABB Ability System 800xA Minerals Process Control Library is part of the ABB Ability MineOptimize portfolio of digitally connected products, services and solutions that enable modern mines and cement plants to maximize visibility, reliability, productivity and energy efficiency and optimize performance.
ABB Ability is the company's digital platform and comprises more than 210 industrial internet solutions and cloud infrastructure.