ABB creates new ecosystem of connected solutions in move towards zero-emission future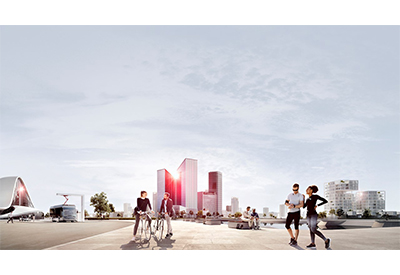 November 27, 2018
At ABB Customer World 2018, with the theme of "Let's write the digital future. Together!", ABB showcased it's cutting-edge technical achievements in power, industry, transport and infrastructure.
During the event, ABB's Electrification Products division will highlight its digital portfolio integrating medium-voltage and low-voltage switchgear and DC and AC electric vehicle (EV) chargers through the on-site exhibition and an industry forum themed "Leading the future electrification of transport", with the aim to support a truly zero-emission future through its broad portfolio of sun to socket solutions.
ABB is committed to running the world without consuming the earth," said Tarak Mehta, president of ABB Electrification Products division. "We are dedicated to supporting China achieve a better future by building a sustainable infrastructure. The depth and breadth of our solutions from energy storage, intelligent power distribution and fast charging for EVs to grid connection of renewable energy will be showcased together for the first time at ABB Customer World".
Fortune Magazine recently ranked ABB #8 on its list of companies that are "changing the world" for its outstanding contributions in accelerating the utilization of clean energy and promoting e-mobility. As a global leader in DC fast charging, ABB has installed more than 8,000 networked, fast charging stations, including high power chargers up to 350 kW, across 68 countries, more chargers than any other manufacturer.
At ACW 2018, ABB showcases its latest AC charger, 180kW DC fast charger and 350kW European standard CCS2 high-power charger. Part of ABB Ability™, the company's digital offering, ABB's DC chargers can achieve a normal availability of 99.5 percent. They can also remotely diagnose more than 90 percent of problems and solve more than 60 percent of them online without the need for presence at the site, thus greatly improving operating efficiency and ensuring worry-free charging.
The electric vehicle charging infrastructure portfolio covers electric vehicle chargers and medium-voltage distribution equipment to cater for charging of cars, buses and trucks and simultaneous charging of multiple vehicles, thus saving installation and commissioning time, minimizing risk and meeting local utility standards and charging reliability requirements.
James Zhao, lead division manager of ABB China Electrification Products division, believes that as China is entering a more mature and complex stage of development, challenges from energy and the environment have become increasingly prominent. Consequently, sustainability and electrification transformation and upgrading have become the core drivers of market growth in various industries. In the mobility field, disruptive changes are occurring, and re-electrification of the upstream, midstream and downstream industries is emerging, which is just what ABB is good at. With leading digital expertise and deep insights into local customers, ABB has helped many businesses in China achieve electrification upgrades to improve energy efficiency and asset management levels as well as system stability, so as to enhance their local and global competitiveness and create more value.
In response to the diverse needs of the market, ABB presents the following new electrification products at ACW 2018:
ABB Ability™ Asset Health for electrical systems: It helps customers quantify the health of equipment assets, predict the possibility of equipment failure, intelligently evaluate a system's energy consumption and guide customers on optimization of operating conditions. Through digital technology, it can help customers improve operation and maintenance efficiency by up to 40 percent, reduce losses caused by outage by up to 30 percent, optimize energy consumption by as much as 15 percent and realize intelligent upgrading from passive prevention to proactive prediction.
Next-generation circuit breaker and switch products including Tmax XT molded case circuit breaker, TruONE™ automatic transfer switch and Ekip UP digital unit: Relying on ABB Ability™ Electrical Distribution Control System (EDCS), they achieve a broader portfolio of intelligent power distribution equipment to apply digital innovations to enterprises' daily equipment management, so as to help users realize real-time control of power distribution systems in the most convenient way.
PVS-50/60-TL is ABB's cloud connected three-phase string solution: For the smart commercial building sector with applications such as car parks, warehouses or industrial buildings which utilizes solar power, PVS-50/60 is the ideal solution to help simplify O&M and importantly optimize total cost of ownership for the complete installation. PVS-50/60 also benefits from cutting-edge communication and control via the installer APP which improves commissioning time by up to 70 percent and can be easily integrated with third-party devices to integrate with existing energy management and monitoring systems.
Pmax bus duct: Certified by KEMA and ASTA, it features conductor conductivity of ≥ 58MS/m. Its casing is a unique two-piece structure design. With thermal conductivity of 210W/m·K, it provides excellent stiffness and heat dissipation. Its protection level can reach IP68.
VD4-AF, a new vacuum circuit breaker for steel furnaces incorporates new technology that reduces cost of operation, prolongs the service life of equipment, lowers maintenance and logistic efforts, and ensures safety and protection of personnel and assets. The VD4-AF is based on vacuum technology and a new innovative actuation system to deliver a breakthrough in performance with up to 150,000 operations without refurbishment, eliminating the downtime for breakers in the critical arc furnace application and processes
REX640, all-in-one protection relay. It makes protecting all your assets in advanced power generation and distribution applications easy. The ability to cover the full range of utility and industrial applications and manage multiple applications simultaneously, with the same device, guarantees flexible, versatile and cost-efficient protection solutions. The fully modular design allows unequaled customization and modification flexibility, and easy adaptation to changing protection requirements throughout the relay life cycle. REX640 is the newest member of ABB's Relion® protection and control family of relays.
ABB AbilityTM smart substation control and protection for electrical systems, SSC600 centralizes all protection and control functionality in a single, IEC 61850-compliant device on substation level to reduce network complexity and support optimal, lifelong asset management for the digital substation. Combining SSC600 with merging units creates a unique, IEC 61850-compliant, centralized protection and control solution. The modular software allows customization at the initial ordering stage and flexible modification for the lifetime of the digital substation. With only having to modify one device instead of all bay-level protection and control devices, upgrading the entire substation system is easier than ever.
Intelligent building control system: KNX Voice control makes smart buildings smarter. It can connect hundreds or thousands of devices for coordinated working and integrate data through IP access points, application programming interfaces (APIs), cloud computing function and artificial intelligence (AI) to complete control tasks, so as to improve comfort and efficiency and reduce energy costs by 30 percent.
Full range of products of Electrification Products Industrial Solutions that has newly joined ABB: This event marks their debut. Amongst, the UPS-TLE Modular series of modular uninterruptible power systems boasts double conversion efficiency of up to 96 percent, output voltage distortion of less than 1 percent and support for online hot plug, intelligent battery management and remote monitoring.
In addition, as an important part of ACW 2018, the opening ceremony of ABB Xiamen Hub was held on November 13 to celebrate the successful establishment of ABB's manufacturing bases and R&D centers in China. Engaging an area of 430,000m2 and involving an investment of ¥2 billion (approximately $300 million), ABB Xiamen Hub is ABB's largest single investment project in China and its largest and most advanced manufacturing base worldwide. Demonstrating ABB's confidence in the Chinese market, it will help ABB to develop business in China, better serve existing and potential customers and continue to secure its leading position in electrification.