Festo Introduces Piezo-based Control Valve for Ventilators, Portable Oxygen Devices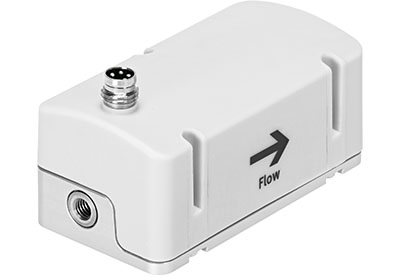 August 28, 2020
The new Festo VEMD control valve is designed to proportionally control air flow in portable oxygen devices, ventilators, bioreactors, and cell-culture fermenters. Piezo-based technology facilitates compact design, dynamic control, and low energy consumption. The valve responds more than 30 times faster than comparable controllers to setpoint changes. Additional advantages include no-heat generation, silent operation, and long service life. Festo offers an attractive price for the performance valve.
Power consumption is rated at 1W, which is ideal for prolonging battery life in portable oxygen systems. The VEMD can also be used in oxygen therapy machines designed for emergency ventilation and aftercare. Since the VEMD is non-magnetic, it will not interfere with other medical devices.
Gas flow is easily adjusted and controlled linearly by entering a setpoint between 0 and 10 V. An integrated control circuit with thermal sensor ensures precision mass flow control and dynamic response. For applications other than the life sciences, the VEMD can be used in process gases applications such as creating a protective atmosphere of nitrogen dioxide or carbon dioxide.
For more information on the VEMD mass flow controller and other Festo LifeTech solutions – dispensing liquids, controlling gases, handling and gripping vials – visit the Festo Canada LifeTech webpage.