Epiroc Hydraulic Breaker HB 7000 DP – a Successful Solution for a Quarry on Mallorca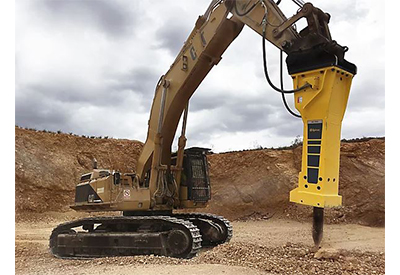 November 17, 2020
The Son Amat quarry is located on the Spanish island of Mallorca. It has a long history and is deeply rooted in the region. In the quarry, the requirements for safety standards, transport routes and production machines used are particularly high. Son Amat uses the Epiroc HB 7000 DP hydraulic breaker, purchased from the official specialist dealer COHIMAOP, for this project. A major task that the giant weighing seven tons has mastered with efficiency and great success.
HB 7000 DP hydraulic breaker, the best solution for Son Amat
Son Amat needed a different solution due to the geographical location of the Balearic Islands and the problems associated with drilling and blasting in quarries. Fault-free processes and optimal utilization of the quarry were the goal and task for the local Epiroc partner COHIMAOP and the Epiroc Iberia team.
After a thorough analysis of the conditions in the quarry, it was concluded that the HB 7000 DP hydraulic breaker was the best solution for material extraction, as it is more flexible to use than drilling and blasting in this particular jobsite. It is also possible to achieve high output rates of limestone in the quarry very quickly.
The perfect team for highly complex tasks
Among other things, the HB 7000 hydraulic breaker opens up previously unused areas in the quarry. This is a major challenge that requires machines that can handle both limestone and its natural weathering. The HB 7000 has not disappointed and meets all expectations. It has a high impact force and the optimal per-minute impact rate, which increases productivity. It also works comparatively quietly and with low vibration levels.
The IPS system, a great success for Epiroc in research and development
The HB range of Epiroc hydraulic breaker offers models suitable for carriers from 22 to 140 tons. The exclusive Intelligent Protection System (IPS) – which combines Epiroc's well-known AutoControl and StartSelect functions – automatically adapts the working method of the breaker to any working conditions.
Thanks to the IPS system, the hydraulic breaker can be positioned in the fastest and most precise way. Ineffective blows, which could damage the attachment, can also be prevented. Thanks to the IPS system, which does not require any manual intervention, the operating time of the equipment is optimized and there are no interruptions in the workflow.
Other outstanding features
Epiroc HB breakers include the Contilube™ II auto-greasing system, the PowerAdapt integrated pressure control valve, and the Vibrosilenced-Plus system, which reduces noise and vibration. The EnergyRecovery system also uses the recoil force of the piston for energy recovery. DustProtector II provides additional protection against dust and rock particles.