Compact, Powerful, Reliable: The Beckhoff Power Supplies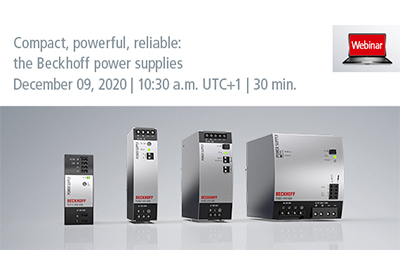 November 30, 2020
Beckhoffs comprehensive power supply portfolio offers 1-phase and 3-phase DIN-rail power supply units with a power spectrum from 2.5 A to 40 A. They are universally usable for both small and cost-optimized applications as well as for demanding 24 and 48 V DC applications – and all of this in a compact housing design.
In this 30-minute webinar, Christian Jürgenhake, Product Manager I/O, presents the basics of the Beckhoff power supplies and explains the special characteristics that distinguish them. Finally, he presents an overview of the power supply portfolio.
At the end of the webinar, the speaker will be available to take the participants questions.
Register here.