Bosch Rexroth Builds the Most Advanced Motion System for Driving Simulation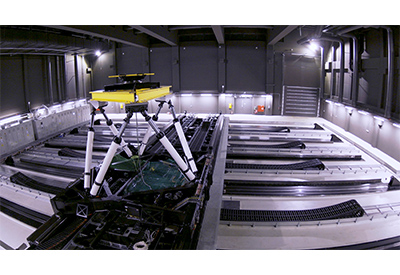 January 18, 2021
With interest in driverless cars increasing all the time, and with car manufacturers looking for deeper insights into potential driving experiences, simulations have become more and more useful. Bosch Rexroth manufactured two of the most advanced motion systems in the world to be used as the basis for two modern and immersive driving simulators.
Bosch Rexroth motion systems are known for innovation across a wide range of industries. Two simulators using these systems are constructed to recreate two different driving experiences, and in order to get each one as accurate as possible it was necessary to look at new ways to make and integrate different motion systems.
The two simulations are known respectively as High Dynamic (HD) and High Fidelity (HF). The HD simulator is designed to recreate the feeling of driving on highways at higher speeds and for high accelerations, whereas the HF simulator emulates driving in cities and country roads at varying speeds and accelerations.
"Driving in the city is very different to driving on highways, so we needed to engineer the motion systems accordingly," says Ronald Bekker, Project Manager for Bosch Rexroth. "The HF simulator has nine directions of freedom as driving in cities tends to involve sharper turns, frequent changes in direction and speed. The HD simulator only has seven directions of freedom, but is capable of generating a greater sensation of acceleration. Each presents its own engineering challenges, especially as a primary goal is for both to be as immersive as possible, which means we need the systems to be very responsive and at the same time as smooth and silent as possible, which are contradictive requirements."
Both systems are complex, and based on similar technologies. Linear motors are used in both, for example, but the HD simulator has many more motors to help generate the increased acceleration and deceleration forces. Bosch Rexroth also developed a new rail wheel system to allow for higher maximum speeds, and the linear electrical motors have no moving parts which contributes to noise reduction.
Bosch Rexroth are providing the motion systems, with the dome, mock-up car and projection equipment being provided by an external partner. Through cooperation and effective integration, these driving simulators represent another step forward in immersion and accuracy.